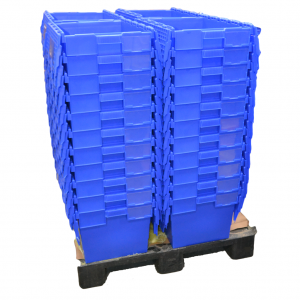 Plastic pallet supplier Exporta Global has launched a new range of heavy-duty attached lid plastic containers.
The containers are available in 45 and 60 litre capacities and feature an integrated lid and reinforced base that supports automation. They are available in in blue, red and green, are stackable and have a nesting ratio of 75 per cent.
Other features include ergonomic handles, tamper evident seals, a removable card window and ID label surface with card slot.
Dale Paterson, Exporta Global Group managing director, said, "These are designed to be very price competitive with an excellent nestable ratio supporting palletisation and storage, particularly where space is at a premium. They are suitable for transporting a variety of goods including food produce."