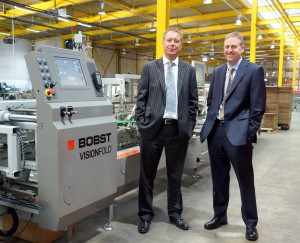 ENCORE Packaging Solutions has invested in £250,000 worth of Bobst kit as it aims to boost production at its Peterlee manufacturing site.
The firm has purchased a Visionfold 110 A2 multifunction folder-gluer with extended delivery unit and blank aligner from Bobst, a supplier of equipment and services to manufacturers of packaging and labels in the folding carton, corrugated board and flexible materials industries.
The investment will allow ENCORE, which manufactures a range of products including corrugated outer packaging to printed folding cartons, to increase productivity to 25,000 cartons per hour.
Russell Croisdale, managing director at ENCORE said, "The decision to purchase the equipment from Bobst has allowed us to fully automate our manufacturing process, which has dramatically increased efficiency as well as our production capacity.
"After relocating our packaging division to its new base in Peterlee we have set the ambitious goal of moving from a simple day shift, five days per week, to a double day shift and I'm confident our investment in the Bobst Visionfold 110 will give us the capabilities needed to achieve this."