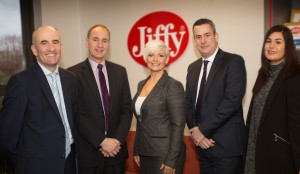 Jiffy Packaging's sales and marketing director, Fiona MacDougall, has made two new additions to the company's sales team.
New account executive, Holly Jackson, and national account manager, Richard Beesley, will be joining national account manager, Colin Parker, who was appointed last July, and sales manger for technical foams, Steve Moore, who has been with the company for almost 30 years.
Speaking on the new sales team, Fiona said, "We have an ambitious sales target to meet in the year ahead and lots to talk about so I'm delighted to have the new team in place.
The appointments follow a year of investment in extrusion technology.
Fiona added, "Following the commissioning of the new foam extruder in Q3 2015, which allows us to manufacture polyethylene foam in a variety of thicknesses at up to 2.5m wide, we are targeting new markets as well as extending our offering to existing customers.
"More investment is expected later this year and this will see us expanding our product offering even further."