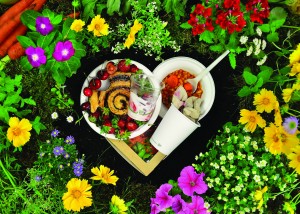 AN Edinburgh eco packaging firm has attributed its recent award of two high growth business rankings to its decision to focus on the environment.
Vegware has been named in The Sunday Times Virgin Fast track 100 and the Deloitte 2015 Technology EMEA Fast 500.
The firm has grown by 57 per cent in the past three years and now has a turnover of almost £10 million. Staff numbers have more than quadrupled during that period.
Vegware makes completely compostable catering disposables, such as coffee cups, cutlery and takeaway boxes, from renewable or recycled plant-based materials, all of which can be recycled along with food waste.
Communications director, Lucy Frankel, told Packaging Scotland, "It seems people are hungry for real practical solutions. The environmental side has been huge for us. Sustainability is absolutely here to stay. The environment is not a niche thing. By focusing on the environment, we've become market leaders.
"We have things like Eco Audits and can provide carbon savings throughout our inventory. We also have a massive link-up with the waste sector through our Food Waste Network, to help clients divert our compostable products from landfill.
"We have an in-house environmental team which helps clients go zero waste.
"Focusing on the environment has been a big key to growth. In the last few years now we've gone mainstream with the distributors we work with – people who take products and the environment seriously.
"We've also gone international. We have partners in five continents spreading the word in places including America, Australia, New Zealand, Hong Kong and UAE. We've built a global name brand.
"We can't grow at these rates infinitely but we're confident we can go further. We want to strengthen the partnerships we already have with distributors. Our real passion is hitting the mainstream. We want to continue to serve the greenest businesses but also branch out to those who want to the best products, which just happen to be green.
"The recent accolades have been a huge confidence booster for the whole team. The team is our greatest asset. We're a close-knit unit, we enjoy working together."
Vegware has won more than 50 awards for sustainability and innovation since being founded in 2008.
Managing director and founder, Joe Frankel, said, "It has been a fantastic journey. When we started, sustainability was a niche concern. Now Vegware's eco catering disposables are used at 50% of the UK's universities, swathes of Canary Wharf, and at corporate restaurants and artisan cafes all around the UK. Product innovation is one key factor to our continuing growth – such as our new colourful Tasting Notes collection, and our innovative Gourmet Range for hot food to go. But the real key to our success has been our proactive team. We are proud to be the leaders of our field, and our growth trajectory proves that we have taken sustainability mainstream."