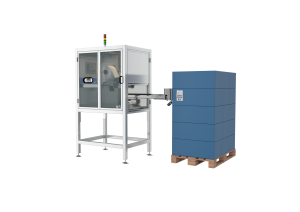 Domino Printing Sciences has grown into a global printing powerhouse since it began manufacturing and marketing ink jet printers in 1978. Domino now operates in over 120 countries and employs over 2,600 staff worldwide. On June 11th 2015, Japan-based Brother Industries acquired the company in a £1 billion deal.
Mike Hurst, UK General Manager at Domino UK Limited, tells Packaging Scotland's Fraser Rummens about the history of the company and what the future has in store following the recent acquisition.
Q) HOW HAS THE FIRM GROWN OVER THE YEARS?
A) Domino was formed in 1978 by Graeme Minto, who had worked for Cambridge Consultants. By 1985, the business had grown to the point where it was floated on the London Stock Exchange and it became a PLC. By 2008 we were a FTSE 250 company.
In June 2015, we were acquired by Brother Industries, which has given the business a solid foundation for the future. Domino will be able to leverage Brother's size, manufacturing and R&D facilities, and sales networks to expand its global reach.
Q) WHAT CHANGES HAVE YOU SEEN DURING YOUR TIME IN THE INDUSTRY?
A) Originally, there were a limited number of ways in which codes and data could be applied onto products and that was mostly based on a single technology.
Over the years, the demand for a wider variety of codes and applications has grown considerably. Therefore, as a supplier for coding and marking systems that is aware of what our customer needs are, we've introduced an array of technologies that can be utilised across primary, secondary or tertiary packaging lines.
As an organisation, we have moved from that single coding technology to a wider product portfolio and we are now in a position to provide customers from various industries with a comprehensive coding and marking solution.
Q) WHAT HAVE BEEN THE STANDOUT PROJECTS?
A) We are the leading supplier in the high-end beverages market at a national level and provide high-speed coding equipment on some of the highest value, fastest production lines in the spirits industry. Customers are reliant on us providing solutions in domestic markets, as well as supporting global supply chains.
Another sector in which we've been actively involved is Life Sciences, more specifically falsified medicines directive compliance.
Q) WHAT ARE YOUR AIMS FOR THE FUTURE?
A) Continued growth. We have two main divisions in our organisation: one is our core coding and marking business, which continues to be a high performing, high strength organisation, while the other deals with the emerging market of colour digital printing. For the latter we launched a separate division in 2013 and continues to be a huge growth area for us.
Backed by the investment and the confidence that Brother Industries have demonstrated, we are in a strong position to achieve sustained growth and increased performance, both on a national and an international level.
Q) HOW DO YOU ENSURE YOUR PRODUCTS STAND OUT?
A) When it comes to coding and marking, Domino has led the way in product innovation and has brought step changes to the market. For example, in terms of our core CIJ continuous inkjet printers, bringing a service free product into the marketplace made a noticeable difference to many of our customers.
From an efficiency and availability perspective, our i-Tech range aspires to bring those qualities to our customers and give us both product innovation and differentiation in the marketplace. We take a different approach to the market. It may sound cliché but it's about bringing solutions in and products are only part of it. We assimilate knowledge, competence and integration capability that customers can't replicate themselves. We have a very strong field engineering team, which allows us to add value.
Q) WHAT AWARDS HAS THE COMPANY RECEIVED?
A) In 1985, 1987 and 1992 we won the Queen's Award for Export. Once we became a FTSE 250 company we were awarded the FTSE4Good environmental sustainability award in 2009.
In 2010, we won the PLC of the Year and in 2012, the Queen's Award for International Trade. In 2014, we picked up the Green Apple Environmental Award and just this year, one of our group directors has won an Institute of Engineering and Technology achievement medal for contributions to manufacturing on a global basis. It's very much an accomplished, progressive set of awards and accolades over the tenure of the company.
Q) ANY RECENT PRODUCT LAUNCHES?
A) We've just brought to the market the M230i, a new version of our well-proven print and apply labelling system. This is targeted at customers' secondary and tertiary coding applications, such as outer cases and pallets.
The printer is compatible with Domino's intelligent technology, is easy to maintain and the number of times customers have to change consumables is significantly reduced. Our aim is to produce systems that are accessible and easy to use for operators and customers, which allows them to become familiar with our technology and maintain an efficient production environment.
Q) WHAT CAN WE EXPECT FROM DOMINO IN 2016?
A) Continued innovation. When customers invest in a technology supplier like Domino, they can expect a degree of innovation to go with the high standards of customer service they would come to expect from a long-standing organisation.