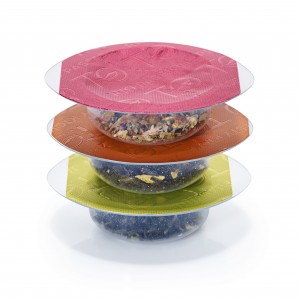 Clondalkin Flexible Packaging Bury has designed and manufactured an innovative lidding solution for the capsules used in a new tea machine.
The T.O by Lipton is the result of 5 years research and development by Unilever. A spokesperson for the company explained how the machine works, "It uses 'loose' tea-leaf capsules which release tea into a visible brewing orb in order to create the optimum brew, with different water temperatures and brewing times tailored to its individual tea variants.
"All the capsules have perforated alufoil lids, which are critical to the operation of the machine. Its two prongs puncture the carefully placed perforations on the lids, allowing water to be 'injected' through one side and forcing the tea leaves out of the other side into the brewing chamber to infuse. There are also different lid sizes for the various different blends which contribute to setting the brewing cycle time and water temperature for that particular variety; as the machine can sense the different lid sizes and adapt its settings accordingly."
"The lids are produced from alufoil with the variant name and brand logo de-embossed out of diamond pattern embossed foil, which was enabled by investment in new equipment."
John Chadwick, Managing Director of Clondalkin Flexible Packaging Bury, commented, "We are delighted to be involved in producing such a high profile product, which presented us with a number of unique challenges. We needed to create lids of the highest quality, which were easily perforable by the machine, yet, robust enough to protect the integrity of the capsule, including the aroma and freshness of the product inside.   We also had to manufacture the lids to a very tightly controlled tolerance, as the exact position of the perforations determines the functionality of the machine and the brewing process.
"The alufoil lids needed to have a premium look and feel, to reflect the high quality of the specially blended loose teas inside and the high-end spec of the product. We also had to produce five different colours of material that could be totally immersed during the brewing process and be guaranteed safe for human consumption. To ensure this, our materials underwent a rigorous external testing and certification process at the Intertek chemical testing laboratory, in The Netherlands.
"The end result is fantastic. Both the machine and the exceptional range of tea capsules produced are testament to the hard work and commitment of many people over the last five years. This is one of the highest profile product launches that Clondalkin Flexible Packaging Bury has ever been involved in and we look forward to seeing the success of the product over the coming months and years."
William Leo, Research and Development Director for Unilever, said, "We are all delighted with the finished T.O by Lipton product. The quality is second to none and the flavours taste fantastic. We first launched in France in September and we plan to roll out to other countries. Customer reviews so far have been excellent and we have advertising and retail sampling taking place to raise awareness of the product."