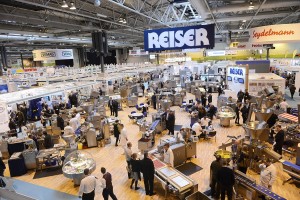 Foodex, a leading event for the food and drink processing, packaging, ingredients and logistics industries, returns to Birmingham's NEC from 18th – 20th April.
Event organisers describe the three-day exhibition as an ideal platform for industry professionals to showcase and learn about the latest products and technologies in the marketplace.
A wide range of exhibitors include Yamato, Adpak, Ishida and ULMA. Event Director, Dan Dixon, told Packaging Scotland, "The show shines a light on the top trends across the food manufacturing sectors, from improving traceability, consumer trust, transforming productivity and highlighting the latest new ingredients and superfoods to make an impression on the industry."
Dan said that visitors can expect a "real plethora of different specialisms… from an exhibiting perspective, you'll see 350 companies plus exhibiting and just over 14,000 visitors across the food and drink manufacturing industry and those visitors represent just about every size of business, food specialism and niche and they come from every region of the UK and beyond our shores.
"One of the key drivers is the seniority around the attendees. 86 percent of our visitors are senior board directors/director and managers and there's a raft of big brands that attend Foodex – everybody from Bernard Matthews, Birds Eye, Branston all the way through to Walkers, Warburtons and Weetabix and they will cover those eight specialisms within the food and drink industry from bakery, beverage, dairy, fresh, ingredients, logistics, meat and seafood."
Dan offered a glimpse of what will be in store at the event, saying "We will be looking at food and drink fraud, protecting supply chains, apprenticeships, plugging skills gaps, opportunities and threats in exports." There will be a number of keynote speakers and debates concerning issues such as consumer awareness around obesity and diet and sugar, something that Dan says food manufacturers have a "key role" to play in. There will also be sessions concerning the big issues affecting the industry, such as combating campylobacter bacteria.
Foodex will also be hosting the National Meat Products and Premier Young Butcher competitions in conjunction with the National Federation for Meat & Food Traders. Reflecting on the event's success, Dan commented, "2014's event delivered some fantastic results from a customer satisfaction survey perspective, both exhibitor and visitor, and that confidence has really carried through to 2016.  In March 2015 we secured extra space at the NEC because of exhibitor demand and the show is virtually sold out and by that I'm talking about a handful of stands left so we're likely to sell out very, very quickly.  That really demonstrates significant demand and confidence by exhibitors of wanting to be at this special calendar event to meet the potential buyers who flock in their thousands.
Dan admits that there is "a lot of choice out there for both visitor and exhibitor", before going on to say, "you've got to make it worth visitors' while to be able to come to the show and that's delivered by the quality of exhibitor that we have, the quality of content, the quality of competitions and an experience where  visitors are  going to see the latest innovations and be able to talk to companies about what the future of food and drink looks like.
"Foodex offers a significant opportunity for exhibiting companies to meet with current buyers, potential buyers, generate sales leads, demonstrate new launches and innovation and that's why it's on a biennial timeline, to allow for that innovation.
"We're hugely excited about the 2016 event. The demand…has been significant and we will be announcing more exciting content in the next few weeks."
By registering for Foodex, visitors can also attend the co-located shows, Food & Drink Expo, Farm Shop & Deli Show and National Convenience Show giving access to over 1200 suppliers and over 100 informative sessions from more than 200 industry experts.
For more information, visit www.foodex.co.uk