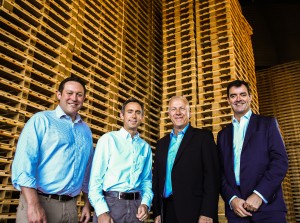 DUNFERMLINE-based Scott Group has acquired HLC (Wood Products) in a "multi-million pound deal" which brings together two major pallet suppliers.
HLC operates from three sites in the Midlands and South East  at Burton-on-Trent, Needham and Peterborough.
Scott Group says it expects the deal will deliver "real customer benefits" particularly in relation to customer service and security of supply through their combined raw material supply chains.
Alan Gibson, managing director of Scott Pallets said, "Scott Pallets and HLC will trade side by side as part of Scott Group and together offer an unrivalled national network of multi-faceted manufacturing sites, operating to the highest manufacturing standards with particular focus on quality, health and safety, customer service and account management.
"Together, we are ideally positioned to support customers in a diverse range of industry sectors nationwide.
"The deal improves our geographical penetration of the large South East market and increases our potential access to European supply."
HLC.s joint managing directors, brothers Ryan and Paul Lewis, will stay in the business along with their senior management team. Scott Group directors Norman Scott, Alan Gibson, Tracy Trotter and Robert Maclean will also join the board of HLC.
Gibson added, "Our customers will also benefit from exceptional, combined, in-house depth of industry knowledge and technical competence. Together we will focus on identifying and integrating best practices to deliver innovative, industry leading service developments.
"Where there are logistical and operational benefits that could be leveraged to benefit customers, we will look to integrate these, particularly in relation to sustainability and environmental objectives such as improving pallet recovery and reuse volumes."