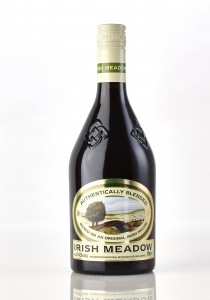 BEATSON Clark has created a new bottle for Halewood International's popular Irish Meadow product.
Available in some leading supermarkets, Irish Meadow is a drink based on an original Irish recipe and best served chilled over ice.
To create a unique container, glass manufacturing specialists Beatson Clark added an embossed Irish Meadow logo to the shoulder of its 700ml amber bottle which has a standard ROPP neck finish.
"We were looking to update the design of our bottle and give it a more premium feel," said Ian Duffy of Halewood International. "Beatson Clark has an excellent reputation for flexibility and we trusted them to create a product that ticked all our boxes."
Charlotte Taylor, Beatson Clark's marketing manager added, "The customer was very interested in an embossed logo on the shoulder of the bottle, so our in-house design team came up with several creative options. Our recent investment in the latest design software enables us to sculpt the embossing, making it both more defined and easier to manufacture. The smooth sculpted 3D effect works perfectly with the Irish Meadow logo.
"A creative approach to embossing can really make a brand to stand out, and it's increasingly popular with our customers: 10 out of our last 17 NPD projects this year have featured embossing."