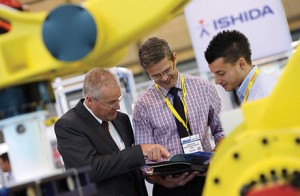 One of the highlights of the PPMA show promises to be the speaker and seminar programme. This year's event features a range of experts who will discuss topics as diverse as the challenge of tackling counterfeit drugs to the state of the British manufacturing sector. Packaging Scotland takes a look at just some of the subjects up for debate.
THE JOURNEY TOWARDS 4.0
The food and drinks manufacturing sector has many challenges around operational efficiency, production flexibility and sustainability. With consumers demanding higher quality at lower cost, Day One of PPMA will feature a talk by Keith Thornhill, Business Manager (Food & Beverage) at Siemens, who will discuss the move towards Industry 4.0.
He will look at how the industry will have to embrace technology and data analytics to stay ahead of the curve and identify the steps required to deploy the latest automation technology with a vision of the digital factory.
CE MARKING MACHINES
CE marking machines and the new 2016 changes will be on the agenda when Peter Evans, Compliance Engineer at the CE Marking Association, takes to the podium. The CE mark can be an effective tool for designing and planning new products, machines and assembly lines. This session will focus on how the CE mark is more than just a compliance mark, but how it can work for you and how you can manage the forthcoming changes in 2016.
ACHIEVING OEE SUCCESS 
Sticking with the compliance theme, Chris Hurst, Head of Compliance and Operational Engineering at GSK, will discuss achieving overall equipment effectiveness (OEE) success in pharmaceutical manufacturing. OEE has been an effective tool to benchmark, analyse and improve production processes in many sectors for decades and now the pharmaceutical sector is catching up. In this masterclass, visitors will learn how to set OEE targets and systematically improve processes via easy-to-obtain measurements.
STOPPING THE ROT
The speaker line-up on Day Two begins with Craig Leadley, Innovative Processing Technologies Specialist at Campden BRI, who will look at the future of food preservation. With around a third of all food produced in the world ending up being wasted somewhere along the production and consumption line, visitors will hear the latest on emerging preservation technologies for the food industry including power ultrasound, cold plasma, UV, pulsed light processing and high pressure food processing.
LEARN FROM THE BEST
Mike Cosby, Finance Director at Burts Potato Chips, will deliver a case study in snacks excellence later that day. Now celebrating their 18th year in business, Burts Potato Chips examines how sales targets and profitability figures have soared thanks to continued factory investment, new technology and dedication to manufacturing real snacks with real crunch. Mike will outlay Burts' growth plans for further expansion into the buoyant snacks sector.
BRITISH MANUFACTURING
Wrapping things up on the Wednesday will be Rhys Herbert, Senior Economist at Lloyds Banking, who will give a talk on how British manufacturing is faring during a period of profound and irreversible change. In this presentation, Lloyds will explore what's in store for the manufacturing sector – its ambitions, opportunities and challenges – and how the economy is shaping up against its competitors.
COMPLY OR DIE
EU Directive 2011/62/EU was issued back in 2011 to prevent falsified medicines entering the legal supply chain with public protection at its heart. In the absence of a corporate definition of serialisation, John McKeon, Technical Director at Portalis Limited, will explain on the final day of the exhibition what is expected of pharmaceutical manufacturers and packers including timeframes, to ensure compliance and ultimately remain in business.