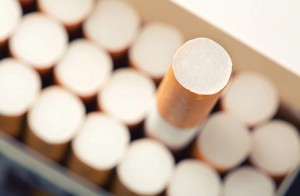 THE Scottish Government has said it will not be deterred by the prospect of a legal challenge by major tobacco firms over the legislation on standardised packaging for cigarettes.
Two of the world's largest tobacco companies, British American Tobacco and Philip Morris International, have filed legal objections against the UK Government's plans to introduce standardised packs.
The firms argue that a wholesale ban on logos and visual trademarks violates the law by depriving the businesses of their trademarks without fair compensation for deprivations of property.
The Scottish Government is equally committed to standard cigarette packaging and could potentially risk similar claims north of the border if they continue to push ahead with the plans.
A spokesman for the Scottish Government said it has long believed standard packaging is "the right thing to do", stating, "We do not believe that legal threats from the tobacco industry should stop us from taking action to improve the health of our children, families and communities across Scotland.
"We stood up to the tobacco industry when they unsuccessfully challenged our display ban and will do so again.
"Tobacco kills more than 13,000 people in Scotland and costs our NHS as much as £500 million every year. We cannot and must not tolerate this.
"We have a vision for a tobacco-free generation in Scotland by 2034.  To achieve this, we need to continue to take bold action like the ban on tobacco advertising and the ban on smoking in public places.
"Standardised Packaging is one of several measures that will support the culture change we need and is already in place in Australia."
Tobacco firms claim the legislation would disrupt EU laws for identical Community trademarks throughout the EU and would therefore obstruct the free movement of goods.
James Barge, Director of Corporate Affairs for Philip Morris International, said, "Litigation is a last resort, however we have a responsibility to protect our rights and our brands.
"It is illegal under English common law and EU law to ban trademarks without compensation, and to prohibit them from being used in the same manner as they are throughout the EU."