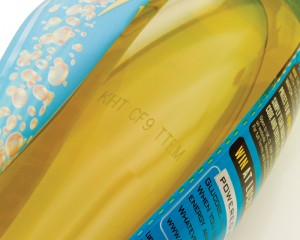 Trevor Nichols (Business Development Manager, Domino Printing Sciences) and Mike Hughes (Managing Director, Autocoding Systems), tell Packaging Scotland why promotional codes are a crucial asset in today's fiercely competitive marketing arena.
WHEN were you last stopped in the street by someone asking how often you purchased a particular product? The chances are it was a while ago. The decline in street-corner market research is driven by digital technology.
We buy so many things online, and tell brands so much about ourselves in the process, that there's little need for it. And even when we 'go offline' and actually visit the shops, what we buy tells brands a lot about us.
Supermarket loyalty cards are the most obvious example, but examine the products in your basket and it's likely you'll find evidence of another, increasingly popular marketing tool — the promotional code.
Promotional codes are proving a highly effective way of engaging customers with innovative campaigns. A unique item of alphanumeric data, the codes are printed on a product or packaging. They are most often used by food and beverage manufacturers to stimulate consumer interest and engagement with a particular brand. They may, for example, encourage consumers to access online information such as deals. And in the very act of engagement, the consumer will be sharing information — even if only an email address.
FUNDAMENTAL DIFFERENCE
Promotional codes are fundamentally different from traditional codes. The latter provide the security essential to risk mitigation. Promotional codes, on the other hand, serve a customer acquisition and relationship function. They are used to drive brand growth, increase consumer loyalty and cultivate market insight and research.
For brand managers, promotional coding can give a significant edge in the marketing arena and an opportunity to increase brand awareness via cross media channels.
More importantly, promotional codes are a cost-effective way of gaining valuable insight into consumer behaviour, in the form of granular, validated data.This allows brand owners to extract useful information about consumer demographics — gender, age range and, more crucially, repeat purchases.
Advertising agencies, meanwhile, play a crucial role in creating and executing the promotional ideas and concepts themselves. They build the websites where codes are input and redeemed, and buy the media to drive and support the campaign penetration. They are also taking on responsibility for providing the actual promotional code data to be printed and used.
THE ENGINEERING CHALLENGE
This is all great news for marketers, but it's important not to underestimate the engineering needed to deliver the promotional codes with 100% accuracy. Stakeholders should be conscious that any promotional technology needs to be seamlessly integrated with existing or planned automated packaging processes; or that the promotional coding hardware and software will run independently of any existing equipment producing BBE dates and compliance codes.
The years following the 2008 recession led to leaner manufacturing through cost-reduction and profit maximisation, and with production teams already streamlined, careful packaging equipment and production planning is required to ensure existing product demand can be met.
HARDWARE
Domino provides multiple technologies to print promotional codes onto products or packaging — this knowledge, experience and understanding of the manufacturing and packaging environments, influences the promotional application and, as a result, the type of technology deployed. For example, continuous ink jet is a frequently adopted technology for printing promotional codes onto soft drink cans, while PET bottles are well suited to Domino's latest i-Tech laser markers.
The flexible wrappers around chocolate bars or crisps are ideal for thermal transfer overprinting systems. In other words, the choice of coding technology is dependent on the sector and industry in question. Many factors influence this, including the packaging machinery in use, production environment, line speeds, stability, as well as the packaging material itself.
CLOSER TO CONSUMERS
Promotional coding has historically been applied where the packaging is made, but this is no longer the case. Changing pack sizes, growing demand from fast-moving societies, digital consumers, higher throughput and greater flexibility mean more coding now happens closer to the end user. This calls for more robust and reliable automated solutions to apply codes to primary packaging.
Systems Integrator, AutoCoding Systems, can set up and control all packaging line devices, including all types of coding and marking equipment. The AutoCoding software solution can deploy the correct set-up and message data, including the delivery and management of unique codes, to all printing devices. AutoCoding's solutions integrate directly with Domino's coding and marking equipment, representing a seamless connection of software and hardware without the need for human intervention. This is important in securely linking together the various elements of such a project. Securing the quality and success of the promotional coding campaign is the ultimate goal. The key is balancing the needs of various stakeholders — brand managers, advertising agencies, production and packaging teams, hardware and software suppliers.
Promotional codes are an invaluable asset in today's fiercely competitive and increasingly digital marketing environment. When they form part of a broader campaign that offers customers more than the product alone, they build trust, loyalty and commitment. Whether sharing knowledge, prizes, or the ethics and values of a brand, promotional codes provide outstanding insights and granular detail about how consumers interact with brands. The empirical data they produce has the power to shape the effectiveness of future campaigns and a brand's market share.