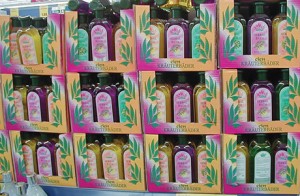 CORRUGATED shelf ready packaging (SRP) has been credited with helping discount supermarkets challenge the 'big four'.
The UK retail landscape is changing dramatically as the once loyal customers of the major supermarket chains become more flexible in their shopping habits.
Aldi and rival discounter Lidl now reportedly make up 9% of the British grocery market, up from just 5.4% in 2012.
A significant factor in their success is quick stock turnaround, which is where the versatility of corrugated SRP comes into its own, according to the Confederation of Paper Industries (CPI).
Discounters need functional packaging to make optimum use of shelf space and are big users of corrugated SRP – whole cross-sections of food and household goods are attractively displayed in the material. Multi-purpose packaging that speeds up the process of getting goods on display once delivered to the store is essential for maintaining footfall to the tills.
Replenishing stock quickly is vital for all retailers, as nothing is noticed more by shoppers than empty shelves.
The UK corrugated industry has invested heavily in designing boxes which save on storage space and cut costs. It is also incorporating easier opening features, such as perforations, to give quicker access to products.
To help keep their costs down discounters restrict the number of similar products which allows them to reduce store sizes. Corrugated SRP is even more important in the compact store environment because there's a far quicker stock turnover.
CPI's Director of Packaging Affairs, Andrew Barnetson, said, "Corrugated shelf ready packaging is streamlining discounters' logistical operations. It reduces handling and waste and has a positive impact on branding. Their success is being aided by striking designs and the efficiency of corrugated SRP during the shelf replenishment process."