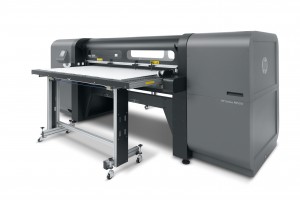 Graphic Printing Technologies (GPT) has announced it will be a key reseller for HP's new range of flatbed industrial printers, the HP Scitex FB550 and FB750. Following on from the company's success with HP's Latex range of printers, GPT is extending its relationship with HP to include the new printers.
GPT is encouraging customers to book a full demo to learn more about the printer range and how it can drive revenues and profitability in their business. GPT has also confirmed it will have an HP FB550 in its own showroom in time for the company's PrintoberFest event on 7th and 8th October.
Shaun Thompson, General Manager of GPT, said, "This is a hugely exciting announcement for GPT and one that we are very excited about. We only started focusing on the HP Latex range at the start of this year and we have already exceeded our sales targets, thanks largely to a very successful Sign & Digital show."
Jane Rixon of HP added, "GPT has shown an excellent understanding of the industry and, more specifically, of the specific requirements that customers are looking for. They are a responsive, professional organisation with a lot of technical, market and application knowledge. We know they are also very strong in the flatbed printers market and we are very much looking forward to growing a solid and successful partnership with them."
HP Scitex FB550 and FB750 Printers provide print and graphics production companies an entrance into rigid printing with one of the most compact printers. It is equipped with an enhanced loading system, which increases workflow for improved profitability. With high uptime and automatic maintenance, the HP Scitex Printers are proven robust, easy-to-use workhorses printing on both rigid and flexible media with a single device.