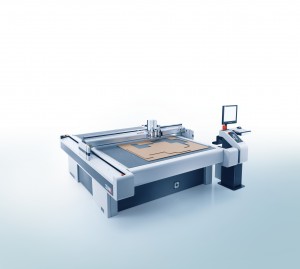 Birmingham-based packaging specialist Jaffa Box is predicting that its new Zünd G3 L-3200 digital cutting table will dramatically increase the speed of its sample-making processes following its installation in August.
Established in the 1970s, family-run Jaffa Box specialises in the manufacture of cardboard boxes, both plain and printed, and records an annual turnover of nearly £10m. Replacing hand-cutting processes with a sample table around 20 years ago accelerated the production of new designs, but this year Jaffa Box decided it was time to upgrade.
"That table made a big difference at the time and has served us well," said John Amyes, Managing Director at Jaffa Box. "But now our designers are producing samples all day long, so we started looking for a new, digital cutting table to meet demand."
John explained that he looked at equipment from a number of brands and asked for the opinions of other businesses in the packaging sector – including Zünd customer Sheard Packaging who purchased a Zünd G3 L-2500 digital cutting system for sample-making last autumn.
"The Zünd table was simply better than any of the ones I looked at," he says. "I was particularly impressed by the vacuum table, which has the bonus of being integrated, and the superior build quality in general. I also thought the software was brilliant. It just ticked all the boxes.
"Zünd has a very good name for service and reliability in the industry. I spoke to Sheard Packaging about their new Zünd and they were over the moon with it, so I'm certainly looking forward to having ours installed."
John saw the Zünd G3 in action at Zünd's recently renovated demonstration centre in St Albans – which he describes as 'very impressive' in itself. In fact, his visit coincided with the installation of the G3 in the facility so was also able to see the inner workings of the machine.
"New customers coming along and existing customers are always ordering new work, so we'll be using the Zünd a lot," added John. "It will definitely speed up the sample making process – there's just no comparison between the Zünd and our existing table."
Nick Reed, Product Manager at Zünd Plotting Systems (UK) Ltd, explained, "The Zünd G3 L-3200 is designed to boost productivity so will make a tremendous difference to the speed of Jaffa Box's sample making processes. Its integrated variable vacuum system keeps both cost and energy consumption to a minimum and, like all Zünd cutting systems, it has a modular construction to allow it to grow and change with the user. It's also been developed to optimise automation and ease of use, making the transition from an older machine very simple."