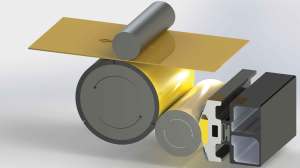 With its recent official product launch, global corrugated industry leader SUN Automation Group® is celebrating new European installations of the innovative AccuPrint®  chambered ink system, which meets three key commercial requirements for the corrugated industry: significantly improved print quality, increased sustainability and reduced plant costs.
SUN Automation, which is celebrating its 30th anniversary, has reinvented the chamber doctor blade system. Incorporated in the new design is a wider throat to give a larger 'ink wetting area' than comparable systems, ensuring that print quality is maintained even at high speeds. Relative to conventional flexographic printing systems, AccuPrint can achieve up to 85% savings on recovered ink prior to colour changeover, alongside a 50% reduction in set-up time. The system also utilises efficient PLC controlled Electric Peristaltic Pumps which are considerably more cost-effective in operation than pneumatic.
European corrugated box makers are under ever-increasing pressure to prove their sustainability credentials and meet regulatory requirements on reducing waste – and SUN Automation is doing everything it can to assist the cause. AccuPrint reduces the water required for wash-up by up to 50 per cent, bringing multiple benefits of lower utility bills, reduced waste and saving resources. In addition, downtime is reduced through clever design features such as tool-less blade and end seal change, resulting in quicker and easier maintenance.
AccuPrint is just one component in SUN Automation's approach to solving customers' feeding, printing and converting challenges using both digital and flexographic technology.
SUN Automation's General Manager EMEA, Rob Dal Lago explained, "We're very proud of our revolutionary new AccuPrint system, which has been developed specifically to enable superior graphics and thus aid the box plant's competitive edge whilst they decide on their approach to digital print solutions. Another key element is that the system is able to be adapted to virtually every type of OEM machine. Users of two-roll systems in particular are amazed by the refinements that AccuPrint brings to their operations.
"We're experiencing a sea-change within the European corrugated industry, driven primarily by discount retailers spearheading the trend for quality shelf ready packaging. In the past, the majority of boxes in the supply chain were used solely for transportation so a two-roll printer was quite adequate. Now the bar is being raised almost daily and top quality print is an expectation from retailers. AccuPrint meets that expectation, especially for those box makers still some way from making the leap into single-pass, high-output digital technology. We are delighted to see the system make its mark so readily in Europe."