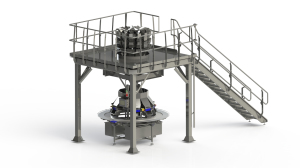 THE latest developments and innovations in meat and poultry weighing, grading, packing and quality control will be showcased in a special event being organised by packaging systems specialist Ishida Europe.
From 14th to 30th April the company will be running a series of demonstrations at its UK headquarters in Woodgate, Birmingham to highlight the capabilities of its latest equipment. Highlights include a world exclusive preview of a new leak testing system for trays along with solutions for weighing, x-ray inspection, grading and tray sealing for meat and poultry applications.
"The size, shape and sticky nature of meat and poultry products present several unique challenges for effective automation of the packing process," explained Ulrich Nielsen, Director of Business Solutions at Ishida Europe. "Over the years, we have developed and refined a range of equipment specifically tailored to the special requirements of protein sectors and our event provides an ideal opportunity to showcase these."
As well as stand-alone machines, two fully-integrated lines will be demonstrated. In addition to the new leak testing solution, which will be unveiled during the event, highlights include Ishida's advanced screw feeder weighing technology which uses unique rotating corkscrews to provide a powerful, controlled and fully automatic product feed to the pool and weigh hoppers.
The CCW-R-214-20-SF model will be shown as part of dedicated grading and tray sealing line, while a new model, created for product tests, will also be demonstrated. The CCW-R-214-20-SF will form part of a line that includes Ishida's innovative Rotobatcher and advanced QX-775 tray sealer along with a seal tester and the new leak detection solution.
The Roto-Batcher combines the accurate weighing of fresh meat and poultry with manual manipulation to optimise the products' arrangement and presentation in trays, while its circular rotary batching table, positioned directly below the weigher, maximises the return on floor space.
Following weighing, each portion is despatched to one of the packing stations on the batching table, where an operator transfers it to a tray, styles it and places the tray on an 'out' belt for sealing, labelling and quality control.
A sixteen head weigher from Ishida's latest range, the RV, will form part of a second integrated line, operating in twin mode with two sides filling trays simultaneously for subsequent sealing in the top-of-the-range QX1100 tray sealer before being placed into crates using Ishida's pick and place IPS packing system.
Stand-alone models on display include the unique Robotgrader, which combines weighing and pick and place technologies to grade products of varying weight, and pack them to a fixed weight straight into the pack.
Two X-ray systems will be demonstrated, both of which use Ishida's advanced GA technology to detect a variety of contaminants down to 0.3mm in size and which can also be used for other quality control operations such as product grading by length, presence of clips, product deformation or missing or damaged pieces.
Of particular significance for the meat and poultry sector is the Ishida IX-G2-4027 which, through the use of dual energy technology, is capable of detecting even the smallest bones in meat fillets and boneless chicken pieces.
Other equipment at the event includes a 4-station belt grader, advanced Weigh Price Labeller and Ishida's latest checkweigher the DACS-G, which incorporates a reject failsafe feature in line with the latest UK supermarket codes of practice.