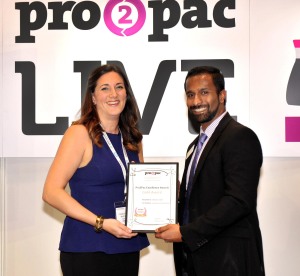 Glass manufacturer Beatson Clark came away from this year's Pro2Pac with a gold award and said the packaging event was the best yet.
The company's Marketing Manager Charlotte Taylor revealed the event was extremely popular and Beatson Clark made some useful contacts during the four-day show.
The company picked up a Gold Excellence Award for its customised finish moulds. The awards were judged by an independent panel of experts looking for all-round excellence and were presented on the Pro2Pac Live stage.
"We were over the moon to win this award," said Charlotte. "We explained to the organisers how our service is unique in the UK – we can use embossing to customise a container and yet still offer production volumes as low as 150,000 units. Overall it's been a fantastic event, much busier than in previous years, and it's definitely been one of our best years at Pro2Pac.
"There was a great deal of interest in our embossing options and people found it fascinating to watch our designer Rob Ledgard as he demonstrated the design software. We had an embossed dressing bottle on our stand with the moulds alongside so that we could explain to visitors how embossing works in a clear and easy to understand way.
"We also showed off lots of new products in our general sale range, including our new 500ml craft beer bottle, our 330ml skittle beer bottle, our 330ml embossed craft beer bottle, our 295g marinade bottle and our 101ml spice jar."