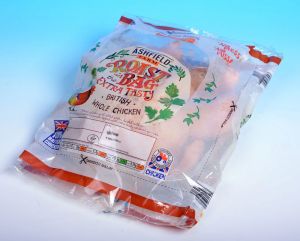 The winners of the inaugural Pro2Pac Excellence Awards have been announced.
The awards showcase the most exciting products, services and business solutions in the food and drink packaging industry today.
Judged by an independent panel of experts looking for all-round excellence, the awards were presented on the Pro2Pac Live stage (22 Mar 2015).
The overall prize was awarded to FFP Packaging Solutions for its Estercook SV, an ovenable flexible pack that offers a self-venting feature designed to open automatically during cooking to relieve pressure and allow steam to escape.
This is the latest development of the Estercook range that allows consumers to take raw protein products such as fish or chicken direct from the fridge or freezer, put them in the pack and then straight into the oven – without touching the raw product at any point by hand.
Corby Ganesh, event director at Fresh Montgomery and member of the judging panel, said: "The Estercook SV emblemises what we were looking for when judging the awards – innovation, excitement and a tangible benefit for consumers and food businesses.
"Selecting an overall winner was incredibly difficult as all the products are fantastic, but the Estercook is a real showstopper."
Golds were awarded to:
Applic'Etains, Tin Labels
Beatson Clark, Customised Finish Moulds
Rapid Action Packaging, HotRap
Tetra Pak UK & Ireland, Tetra Rex Bio-Based Carton.
Silver:
Atlas Packaging, Riverford Recipe Box
Celebration Paper and Plastics, Combination Lid & Portion Pot
Elopak UK, The Greenest Pure-Pak® carton ever
SIG Combibloc, Combisafe
Bronze:
Multivac UK, Snapsil
Papeles el Carmen, Sacovitta
Vegware, The Gourmet Range
Corby continued, "These awards are an excellent way of working with our exhibitors to identify and promote not only their services and products, but the innovation that the industry offers as a whole.
"They're a showcase for the breadth and depth of quality that comes out of the packaging sector."