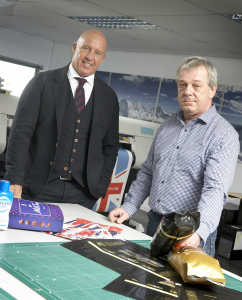 REPROGRAPHICS experts from Hull say they're looking to expand their business after creating ultra-realistic "mockup" packaging for some of the world's most recognisable brands.
Entrepreneur Rick McGurk has teamed up with Kevin Wilkinson to create Litmus – a business dedicated to the packaging industry. The pair each have over 30 years of experience in the print industry and will be using their expertise to produce accurate, colour-correct mockups.
Rick explained, "Kevin has already worked with some of the world's most recognisable brands but now I've joined the team, we're looking to really expand the business and our offering. Packaging mockups are an important part of the production process and we pride ourselves on producing, what we think, are the most realistic ones on the market.
"I started out in reprographics and my own businesses operated around the world. Kevin has also built up a well-respected company, GKD Litho, and I've been looking for a new challenge so it makes a lot of sense for us to join forces and take on this exciting venture."
The firm is capable of replicating various types of printed packaging from labels, bags and metallic foils to cartons and flow wraps. As part of the service, Litmus also offers a range of special finishes, as well as embossing, diecutting, cad cut and comprehensive, full commercial litho finishing, 3D printing and vacuum forming.
Litmus have already moved to expand their team with the appointment of a new Business Development Manager. Sophie James joins the company with over six years of project and account management experience after working for firms in London and East Yorkshire.
Sophie said, "The products offered by Litmus are second to none and, from a personal point of view, it's an exciting time to join the company. The team at Litmus want the company to become an industry leader, renowned for the quality of their mockups and I'm looking forward to helping them achieve that goal."
In addition to producing mockups, Litmus will soon offer a full training service for their clients. The two-day "boot camp" has been designed to give an insight into the full production process and provide a full knowledge of traditional colour offers, printing techniques and packaging types.