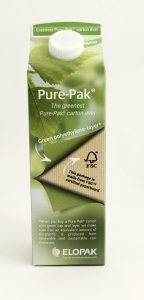 ELOPAK UK is showcasing the greenest Pure-Pak® carton ever at Pro2Pac which features the recently launched Pure-Pak® Sense carton with certified renewable polyethylene (PE), produced from biomass sources.
The certified renewable polyethylene (PE) from Elopak which is available for all Pure-Pak® cartons, has been announced as one of the finalists for the Pro2Pac Excellence Awards 2015.
A unique feature of the Pure-Pak® Sense carton, is its easy-to-fold lines that enable consumers to fold and squeeze out significantly more product, reflecting the global issue of food waste.
Visitors to the Elopak UK stand no. S2111 will also be able to view its EloBrick™ packaging material for roll fed aseptic filling machines, which is achieving success at a growing pace in Europe and Russia.
"We are looking forward to meeting our industry colleagues and partners Pro2Pac 2015 and acknowledging the progress and developments for the beverage carton," said Bert Lohuis, Market Area Director Area Europe West.
"2015 is an exciting year for Elopak following the launch of certified renewable polyethylene (PE) and the Pure-Pak® Sense carton which reflects the critical issue of food waste. Both initiatives, along with caps produced from the same renewable PE, collectively create the greenest Pure-Pak® carton ever."