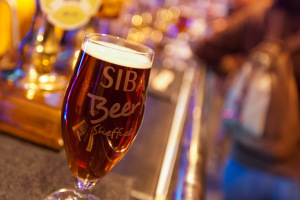 BEATSON Clark specialises in helping independent breweries find the perfect bottles for their beers, which is why they'll be exhibiting again at this year's BeerX event in Sheffield.
The annual conference of SIBA, the Society of Independent Brewers, takes place from 18th to 21st March at Ice Sheffield, just a few miles from Beatson Clark's factory in nearby Rotherham.
Beatson Clark manufactures bottles for many well known breweries such as Robinson's, Meantime, Thornbridge and Brooklyn Brewery in New York. The company will be exhibiting a range of bespoke and standard beer bottles and explaining how it can create unique bottle designs for breweries at a greatly reduced cost.
"We exhibited at BeerX for the first time last year and we thought it was a terrific event, so we just had to come back again in 2015," said Charlotte Taylor, Marketing Manager at Beatson Clark. "We want to explain to the breweries the different services we offer. Our in-house design team can create beautiful and eye-catching bespoke bottles for customers, but if budgets are tight or production volumes are too low to justify a completely new design we can also add embossing to a standard design to create a unique bottle.
"Our trademark is our flexibility and we really would encourage breweries to come and find us at the exhibition and talk to us about how we can add value and make their beers stand out on shelf."
BeerX UK 2015 will focus on the future of the British brewing industry. For the first time the annual event will be dedicated to trade exhibitors who will occupy a 2,000m² exhibition hall at the heart of the venue.
For two days on 20th and 21st March the BeerX Festival of Beer will also be open to members of the public.