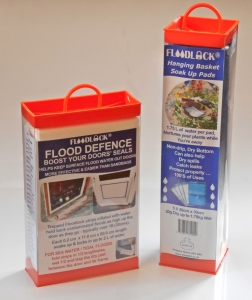 ALLUPS have launched an innovative flood protection product range, well received by leading DIY and hardware stores.
With housebuilding at an all-time high and the widely acknowledged failure of sandbags for domestic use the Floodlock® range, including strips that can help keep over 0.5m deep floods at bay for £20/door SRP, has attracted huge interest.
To keep the products dry in storage and enhance the presentation, Allups chose Jetran® packaging to pack the products.
Two sizes of Jetran® pack have been selected as these provide a stylish presentation in-store along with a robust storage container. The Jetran® packs have been selected from Bell's standard range. With over 300 standard sizes to choose from most products can be accommodated.
The end caps are moulded in LDPe and have been produced to the customers' colour – the intention being to create maximum impact in store. The tubes are made using a recyclable PVC film and are supplied packed flat which makes shipping and storage very economic.
Standard-sized Jetran® packaging is available in minimum order quantities of 2,500 packs with no tooling costs and delivery within two weeks. Following strong online sales the range was recently launched to Independent DIY retailers nationwide via Stax Trade Centres and Home Hardware Group.
Commenting on the packaging Managing Director Steve Jacobs said, "We worked with Bell for many months to perfect our presentation. First impressions are so important, we wanted something that the customer could instantly understand and relate to.
"The clear tubing allows excellent graphics whilst showing the customer what they are getting. The eye-catching orange end caps provide a recognisable family look and strength to the pack making them easy to display and store.
"Since adopting Jetran® packaging our sales have exceeded expectations and we have received many compliments about the presentation."