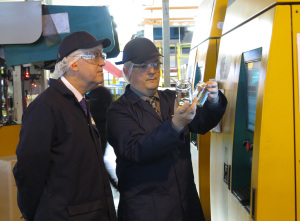 HOUSE of Lords Deputy Chief Whip Lord Newby OBE paid a visit to Beatson Clark in Rotherham to look at the glass manufacturer's £12m investment programme.
Beatson Clark successfully bid for £1.7m in round four of the Regional Growth Fund in 2013. The company has recently built a new amber furnace, installed a six-section bottle forming machine and a new capping machine and upgraded its design software systems.
Lord Newby toured the factory on Greasbrough Road and met staff who work at the company, which has been making glass bottles and jars in Rotherham since 1751.
"The grant we secured through the Regional Growth Fund was a terrific boost for Beatson Clark and the local economy in Rotherham as it enabled us to strengthen the service we provide to the pharmaceutical sector," said Lynn Sidebottom, Sales and Marketing Director at Beatson Clark. "It also facilitated an expansion of our activities in the growing brewery sector and helped to secure jobs for the future."