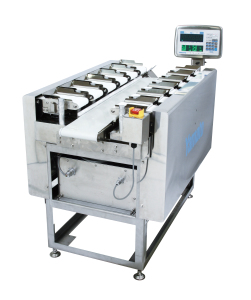 YAMATO Scale Dataweigh is set to showcase their range of weighing machinery at packaging technology show Empack 2015.
Demonstrating the role that checkweighers, multi-head weighers and table-top weighers have throughout the packaging process, Yamato will be exhibiting their Table Top Semi-automatic Dataweigh (TDSW) range and their I-series checkweighers at the Birmingham event in February.
Yamato's l-Series checkweigher has applications across both food and non-food industries with bespoke options available to provide optimised solutions for handling and rapid weighing of products.
Packaging and weighing solutions developed by Yamato are tailored to the customer's products by a team of experienced engineers to ensure product requirements align with automation processes.
Low impact solutions such as the Table Top Semi-Automatic Dataweigh are generally used for delicate and fragile products and allow for 30 fixed weight packages of vegetables and meat to be checked and weighed per minute.
Andrea Spencer, Commerical Operations Manager for Yamato Scale Dataweigh UK, said, "We're excited to be showcasing at the Empack 2014 event, many customers are interested in the process and machinery that keeps their lines running behind the scenes, and this event gives us a valuable opportunity to interface with them and discuss how they can best achieve their objectives with Yamato's checkweighers and range of weighing machines."