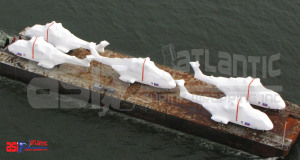 IT'S not everyday you see a shrink-wrapped helicopter, spacecraft part or 60 ft. industrial silo. But for Atlantic Shrink Wrapping Inc. (ASI), a mobile shrink wrapping firm based in Annapolis, Maryland, working with aerospace, military and industrial items is just part of their day to day trade.
With clients including NASA, the US military, Nuclear Power companies and private global firms, ASI has shrink wrapped everything from fighter jets to large enclosures with ships inside of them.
Having started in the marine industry in 2000, ASI soon branched into industrial shrink-wrapping and is now operating on an international scale.
Dustin Hoover, Co-owner of ASI, said, "Our crews travel mainly throughout the United States installing custom shrink wrap covers for long term outside storage, transportation needs and speciality containments, but have been hired as far south as Puerto Rico and as far east as Bangkok. Not because we are the cheapest shrink-wrapping company that is willing to travel but because our portfolio speaks for itself. There are a lot of companies who can make a project look good at first but the shrink-wrap fails during transport because it was not strong enough. ASI has a 100% success rate over the past 14 years with hundreds of large items wrapped for transport",
"One of our key markets is aviation and aerospace components. We wrap a lot of helicopters and spacecraft parts .We also wrap very large and unmanageable industrial items that need to be shipped from one place to another, many of which are shipped overseas.
We have been recognised by our peers in the industry as one of the top shrink wrapping companies in the country and possibly the leading shrink wrapping company in the country for the size of projects that we do."
ASI's most recent projects were for the US Navy and a private global firm transporting an industrial silo to the oil fields of Northern Canada.
"The Navy needed a lifeboat from the USS Mercy medical ship shrink wrapped for long term storage and eventual transport. The other client needed a very large metal industrial silo shrink wrapped for a 3000 mile journey up to the oil fields of Northern Canada", Dustin added.
With all necessary materials shipped to the sites ahead of arrival, ASI's two most experienced installers, Dustin Hoover and Christopher Grimm, completed the projects a day ahead of schedule.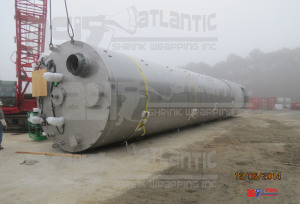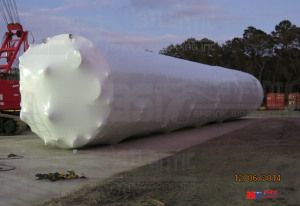 "The industrial silo measured 62 ft. in length and over 14 ft. in circumference. It was being wrapped because of the harsh road and winter conditions between the warm summer-like state that it was built in and the cold and salt covered roads that it would have to travel through to get to its destination in Northern Alberta, Canada.
"It was wrapped in a single day using our premium 12 mil thick white shrink film. All sharp points on the silo had to be padded to protect the shrink-wrap during its journey. The silo was covered 360 degrees and reinforced to withstand the 3000 miles on the back of a tractor trailer through incredible snow, salt and cold conditions.
"Upon arrival the shrink wrap will be removed and the silo will be as clean as it was when we wrapped it."
Having already been commissioned to wrap three more pieces of equipment for the same client in the coming months, ASI can add another successful project to their 100% record.