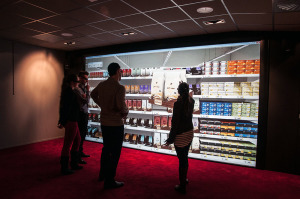 SMURFIT Kappa has highlighted a significant opportunity currently being missed by brands competing for shopper attention in European supermarkets.
The white-paper report, 'Marketing on the shelf: exactly how in control are you?', revealed that whilst 76% of purchase decisions are made in-store, brands are often failing to capitalise on the marketing opportunity this represents.
In particular, brands are missing out on using shelf-ready packaging as a way to influence shoppers directly at the point-of-purchase, where decisions to buy a brand or switch to another are commonly made.
Smurfit Kappa found that up to 40% of a product viewed on-shelf can be made up of secondary packaging and that the marketing channel this presents is often unrecognised by brand teams.
Arco Berkenbosch, V.P Marketing, Research and Development at Smurfit Kappa said, "Our analysis found that there is approximately 125 square metres for brands to market to shoppers at the point of purchase in a typical European supermarket, through Shelf-Ready Packaging.
"That would normally be regarded as an important marketing channel with brands doing everything they can to take advantage of it. If compared to the cost of a typical 6-sheet poster site, for example, in advertising terms that's the equivalent of €424,320 of additional marketing per store every year.
"Across the whole of Europe this equates to a multi-million euro channel available to brands. "In a more complex retail world where marketers have to work even harder to compete for shopper attention, this represents a sizeable opportunity.
"Yet, it largely remains one of the most under-utilised parts of the marketing mix and one that still rarely makes it onto the priority list of most brand directors. In reality, it is one of the last areas in-store that offers new market-ing opportunities at the point-of-purchase."
Although shelf-ready packaging, products delivered to a retailer in a ready-to-sell merchandised unit, was first introduced for its logistical advantages, marketers could now take advantage of the fact that, in tests, such packaging is noticed by up to 76% more shoppers.
"Implemented properly, marketing on the shelf would be completely integrated into a brand's wider marketing activities, with a clear brief based on an integrated, well-defined shopper marketing strategy," added Berkenbosch.
"Ownership and responsibility would be held at brand marketing level, with marketing on the shelf, to the shopper as well as to the consumer, considered at the very outset of the brand journey."
Helping brands develop marketing solutions to make the most of Shelf Ready Packaging, Smurfit Kappa, in partnership with Eyesee, have developed a unique virtual supermarket scenario to allow marketing teams and owners to test and understand the impact of their products on shoppers.
By visualising the product on the supermarket shelf and collating eye-tracking results via webcam, the technology allows brands to determine the effectiveness of different packaging designs.
Marketing teams can test various marketing strategies before they are created and brought to shelf.
Regarding marketer responses to the report, Berkenbosch added, "Whilst marketing teams find the results exciting and inspiring, they also see the challenges they now face in harvesting this new opportunity.
"We anticipate changes coming into effect in the next year with the market developing from there.
"This report is about helping companies that are not yet on the scale they should be as well as dramatically improving the recognition of customers.
"The reality is that the vision of the future is here now.
"From insights to measurement, Smurfit Kappa can do in weeks what used to take brands months, including all the testing brand owners need."
Smurfit Kappa's new microsite, openthefuture.info, focuses on increasing customer insight and innovation and features a series of films portraying customers across the world working with Smurfit Kappa to develop new solutions for commercial success.