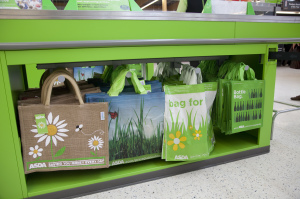 ASDA is supporting local communities across Scotland by donating the net proceeds from the Scottish Government's 5p single use carrier bag charge. 
The company is calling its approach 'Asda Community Capital'.  Between October 2014, when the charge came into force, and December 2014, almost £145,000 has been raised.
Asda will donate the funds arising from the bag charge to support innovative social enterprises and community projects across Scotland. In what is a UK-first, the partnership with Scotland's leading funder to the third sector, Social Investment Scotland (SIS) will see half of the proceeds distributed through loans, helping third sector organisations who otherwise would find it difficult to access funding. Investment capital of between £10,000 and £50,000 will be made available for new social enterprises, meeting a gap in the current market for smaller loans.  Interest will not be charged during the first year of investment and from the second year, all interest raised on the Community Capital loans will be reinvested to support more good causes, delivering sustainable social impact in communities across Scotland.
The other half of the funds will be donated to Foundation Scotland to be distributed in small grants. Customers and colleagues will have the opportunity to nominate projects and good causes in their local community that would benefit from Asda Community Capital grants of up to £2,000. To ensure the grants are as locally relevant as possible, regional selection panels of Asda colleagues will vote on the projects to benefit.
Estimates suggest that single use carrier bag charging by Asda could raise more than half a million pounds in the first year. Although if the policy has the Government's desired effect carrier bag use will fall and there will be a subsequent drop in proceeds, Asda's approach will ensure that the donated funds have a meaningful benefit for communities long into the future.
Kevin McBride, Asda's Senior Director for Scotland, said, "We want the carrier bag charge to have long-term social – as well as environmental – benefits. By working with our partners Social Investment Scotland and Foundation Scotland, we have the opportunity to invest innovatively in our local communities, helping to grow the social enterprise sector and supporting local projects in every Asda mile. By working in partnership, we can ensure that Asda Community Capital delivers meaningful, sustainable benefits for Scotland, helping to drive growth, create jobs and regenerate communities for the long-term."
Alastair Davis, CEO, Social Investment Scotland, added, "Scotland's third sector has an increasingly crucial role to play in fostering thriving communities through local job creation, community engagement and economic development. Many of the enterprises delivering these benefits frequently struggle to access capital, either as a result of their own investment readiness or the lack of suitable financial products. Through the creation of Asda's Community Capital, we'll be able to support the development of highly motivated, small, community-based enterprises throughout Scotland. In turn, we can help to connect more capital with communities, making a real, measurable and sustainable impact on people's lives."