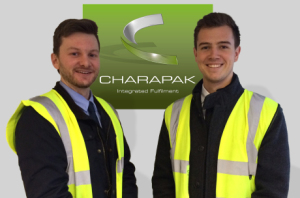 Charapak Integrated Fulfilment has made two key appointments to further develop its range of specialist fulfilment services.
Aaron Gibson has joined the business as Warehouse and Logistics Manager and Peter Wright has been appointed Business Development Executive.
A History graduate, Aaron has over five years' experience in logistics management, working for leading companies TDG and Brands2Hands, servicing a wide range of well-known clients including Brakes Brothers, Matches.com and Autobar.
Peter graduated from Sheffield Hallam University in 2014. He joined Charapak Integrated Fulfilment initially to work on the company's packaging and fulfilment service for the distribution of the world-famous ceramic poppies which were displayed at the Tower of London last year.
"We are delighted to welcome Aaron and Peter to Charapak," said group managing director Richard Smith. "The success of the poppies project has ideally demonstrated the expertise and breadth of fulfilment services that we can offer, and both will play key roles in helping to take the business to the next level of success and growth."
Charapak Integrated Fulfilment offers a multi-functional fulfilment service, including design, co-packing, assembly, labelling and rework, tailored to the precise requirements of each customer. Markets served include retail, manufacturing, food & drink, cosmetics & toiletries, household & automotive, DIY, pet care and entertainment.
The Charapak Group was established in 1980, and is now the largest independent manufacturer of corrugated packaging, specialising in promotional displays and retail ready packaging.