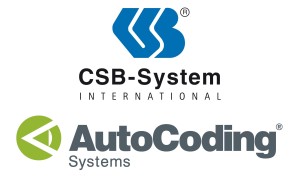 FOOD and drink IT specialist CSB-System and leading factory automation solutions provider AutoCoding Systems have formed a strategic alliance.
Under the agreement, both companies will be able to offer each other's full range of products, including CSB's food and drink specific software covering areas such as ERP, MES, production planning and traceability, and AutoCoding Systems' proven coding and packaging verification solutions.
Founded in 1977, CSB-System creates tailor made business software solutions that help food and beverage companies achieve increased performance, profitability and efficiency, including in-house systems for process and business management and also flexible mobile and field service solutions. The company is one of the leading business software vendors within the worldwide food and beverage sector, with over 30 sales companies and represented in over 40 countries.
AutoCoding Systems has been providing factory automation solutions to FMCG companies in the UK for over 10 years. The company has particular expertise in coding and packaging verification and data integrity on the packing line that reduces the need for operator intervention and eliminates the risk of packing and coding errors. AutoCoding's software is able to integrate with all major coding, labelling, checkweighing and packaging equipment manufacturers and its modular system enables a solution to be tailored to individual customer requirements.
"We are delighted to have formed this alliance with AutoCoding Systems," said Paul Griffin, International Business Development Director, CSB-System. "The company's experience and market knowledge will be invaluable in helping us to further grow our presence in the UK market."
Mike Hughes, Managing Director of AutoCoding Systems added, "CSB-System is a like-minded company, which has a clear synergy with our own operations, and forming a closer working relationship will allow us to use our joint expertise and technical knowledge to open many mutually beneficial opportunities."