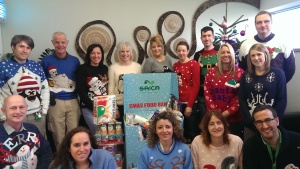 PAPER manufacturer SAICA Paper has brought some early Christmas cheer to a Stretford food bank with a bumper donation of essential food items.
Over 500 products, ranging from cornflakes to corned beef, have been donated by staff at the company's Partington factory in Greater Manchester to ensure the Stretford Food Bank can continue to operate its two distribution centres at Trafford Christian Life Centre and St Michael's Church.
Run by The Trussell, Stretford Food Bank provides emergency food and support to people experiencing crisis in the UK.
Rachel Seddon, Concierge at Partington Mill and organiser of the collection, said:
"We're delighted with the response we have had from staff at the mill. Everyone has pitched in to help those in a much worse situation than themselves. We are proud to be doing our bit to help Stretford Foodbank, and would ask others to donate if they can."
Stretford Food Bank's committed team of volunteers has been able to support over 900 people since opening in late 2013.
Sam Aspin, volunteer at Stretford Food Bank Committee Member said:
"Christmas is a busy time of year for Stretford Food Bank and we would like to thank everyone who has donated to the collection. We depend on donations to support people who have very little, and always welcome new volunteers – and are looking for people in IT and admin support. If people are able to donate something then please, keep giving."