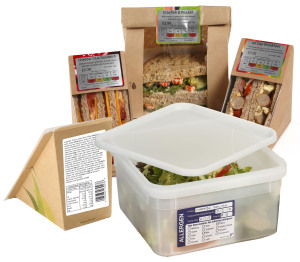 UNDER new legislation all food providers must now make customers aware of the presence of 14 potential allergens within their products. Part of the Food Information Regulation (FRI), the changes have significantly altered how caterers label their products.
As a result, Planglow has created three new label designs to provide allergin information and nutritional data on pack: the tick-box Allergen Label; Prima Nutri Label; and back of pack Plain Nutri Label.
Rachael Sawtell, Marketing Director for Planglow said, "These new designs have been developed to support providers through the changes in law as well as those looking to exercise best practise – both now and in the future.
"Prima Nutri provides a premium, colourful setting for basic front of pack information plus full nutritional data on the back. Whilst the Plain Nutri Label is for providers wanting to continue using their current labelling on the front of pack by adding allergen, nutritional and other info to the rear. The Allergen Label is primarily for back of house as it combines kitchen prep and allergen info in one resource"
Allergen Label
Combining allergen and kitchen prep information in a quick-tick label, the Allergen Label is fully legislatively compliant. Designed to highlight allergens identified in product ingredients, the label ensures transparency, improves kitchen practices and supports consumer safety. Offering excellent adhesion in fridges and freezers (-40°C to 50°C), the easy peel adhesive removes from most materials down to-2°C and comes on an easy-tear roll packaged in a dispenser.
Prima Nutri Label
The Prima Nutri Label comes with six labels in three different colour-ways per-sheet and features glossy fold-over designs with bright photographic borders. Both the front and back panels of the label can be overprinted with product information. The label is designed to fold over the pack to form a break seal, displaying basic product information on the silver front panel and ingredients, nutritional box and barcode on the back.
Plain Nutri Label
Like the Prima Nutri Label, the Plain Nutri Label comes in a large six-per-sheet format. The matt-finish product can be used by providers looking to add FIR compliant allergen info, nutritional data, ingredients and barcode to the back of the pack without changing their existing front of pack labelling. The Plain Nutri Label may also be used for internal and back of house processes due to its spacious sizing.