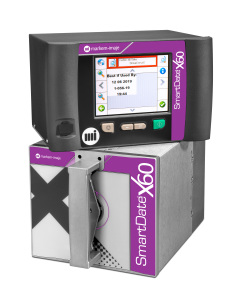 MARKEM-IMAJE has announced the introduction of the SmartDate X60/128 thermal transfer printer.
Capable of printing up to 128 mm maximum width to accommodate large messages, the X60/128 has been designed to deliver consistently high quality printing of nutritional labels, ingredients or multi-pack applications.
"The SmartDate X60/128 represents a significant advance on previous technology, one that will offer clear benefits to customers," according to Rajiv Narayan, Product Manager for the Markem-Imaje thermal transfer line.
"In recent years the Markem-Imaje SmartDate X60 has improved performance on scores of productions lines around the globe. The new SmartDate X60/128 maintains the reliability of the previous SmartDate 5/128, while benefiting from a number of upgrades, particularly in its firmware. For instance, it offers dead-dot detection to avoid failed dots on the line, and image adjustment directly on the interface, without need of a laptop computer to make changes."
The SmartDate X60/128 is also capable of line speeds up to 700 mm/per second.
Coding customers can count on:
The SmartDate X60/128 has been designed to apply to a wide variety of production line scenarios, with features including:
Multi-code capability for printing multiple codes on multi-lane packaging lines.
An easy-to-use, intuitive touch screen with USB connectivity for quick changes to codes or ingredients.
Ability to accommodate a variety of ribbon lengths, up to 900 meters in select grades to reduce the changeovers that can impede uptime.
All backed by an extended printhead warranty.