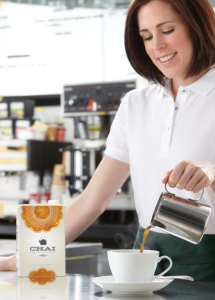 FOR broad sections of the US foodservice industry, it is no longer just coffee, tea and classic soft drinks that are the cornerstones of their beverage business. Increasingly, it is now hand-crafted and custom-made speciality beverages such as artisanal smoothies, lemonades, speciality coffee and tea drinks, or even hand-crafted soda, that are proving to be high-margin menu add-ons.
Speciality beverages such as these can increase traffic and boost profits, if the programme is properly executed. In a new White Paper, SIG Combibloc highlights the issues foodservice operators need to consider in order to successfully implement and manage their speciality beverage programmes. This includes the choice of packaging.
The White Paper shows how speciality products in aseptic carton packs can help foodservice operators reduce product and labour costs, the amount of work involved and product waste. Using the example of leading US coffee chains, the White Paper illustrates how many operators are breaking away from conventional thinking and are utilising beverage bases in aseptic carton packs in their day-to-day business, profitably expanding product ranges with the addition of speciality beverages.
Trisha Prodoehl, Foodservice Business Development Manager, SIG Combibloc North America, said, "Speciality beverages have become key products on beverage menus in US foodservice operations. Properly executed product programmes ensure the customer has an enhanced overall experience when visiting a restaurant or a coffee house, and generate higher margins for restaurants. Our new White Paper demonstrates clearly why aseptic carton packs can play an important role in achieving this success".
The White Paper is available to download free of charge on SIG Combibloc's homepage at: www.sig.biz/white-paper