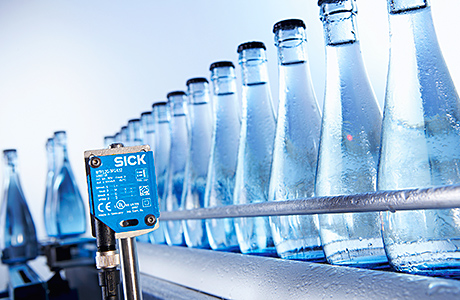 CLEAR packaging and films are dream materials for food and FMCG manufacturers, but ever-more transparent and reflective packaging can pose nightmares for the production engineers tasked with detecting them accurately and reliably with optical sensors.
Now, sensor specialist SICK believes it has solved the problem.
The TranspaTect photoelectric distance sensor is said to achieve the most advanced clear material detection to date without the need for a reflector and is particularly suited for transparent and semi-transparent trays and bottles.
The TranspaTect's reported high optical performance and detection accuracy promise better production efficiency, cost-savings, and quick and easy commissioning for packaging processes such as picking, placing, labelling and printing.
"Transparent and semi-transparent materials now pose no problem," said Phil Dyas, Sick UK industrial sensor specialist. "The sensor is also quicker and easier to install. A key development was eliminating the need to mount a reflector on the conveyor to return the light beam. Operators no longer have the time-consuming task of mounting the reflector and aligning the sensor to it. The push-button teach-in process also facilitates rapid commissioning and set-up, says the company.
"Instead of a reflector, the metallic surface of a convenient machine component is used as a reference surface. This innovation also opens up extra design freedom for packaging machine builders."
A new AutoAdapt feature automatically compensates for sudden contamination of the lens by dust or product residue, and then re-establishes the original threshold levels when it is cleaned up. False readings and line downtime are therefore minimised and intervals between cleanings can be extended, says SICK.
The TranspaTect photoelectric sensor is based on a high performance PinPoint LED which emits a tight, highly visible spot for easy visual reference. The detecting range for transparent objects is 0 – 400mm and the background reference range is 150 – 700mm.
IP66/67 rated, the SICK TranspaTect has ECOLAB certification of its resistance to aggressive cleaning regimes, disinfectants and chemicals for a long, reliable working life. The compact (15.6 mm x 48.5 mm x 42 mm) rugged die-cast zinc housing is available with an optional PTFE chemical resistant coating. For more detail see www.sick.co.uk.