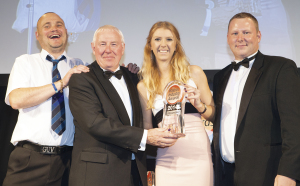 ENERGY efficiency initiatives, eco-friendly packaging designs and innovative materials re-use featured strongly amongst the winning entries for this year's Plastics Industry Awards (PIAs).
Presented by comedian Al Murray at a sell-out ceremony in London, the PIAs showcased the very best of the versatile material and demonstrated that environmentally-friendly designs and manufacturing processes needn't compromise aesthetics or profitability.
Manufacturer Logoplaste UK won the new category Best Recycled Plastic Product of the Year, for a packaging project with Ecover using ocean-derived waste plastic. The plankton-inspired product design used biomimicry thinking which helped to optimise the mechanical performance of the bottle as well as reinforce an important environmental message about marine life. Logoplaste UK also won the Best Environmental or Energy Efficiency Programme category for the second year in a row, in recognition of its commitment to material and carbon reduction across all its plants. This included zero-to-landfill initiatives and product light-weighting.
Linpac Packaging won Best Technology Application for its Rfresh Elite fully-recyclable packaging product made from 95% post-consumer recyclate processed via Linpac's in-house supercleaning process. The resulting packaging is free from contamination, suitable for contact with food and can be recycled by consumers via their kerbside collection schemes. 
Matrix Plastics won Supplier Partnership: Masterbatch, Compounds and Additives for its work with Floreon on an impact modified biopolymer created from a desire for a greener, safer form of plastic water bottle, particularly for office water coolers.
This year's event was a sell-out with 800 guests including supplier companies, OEM manufacturers, plastics processors, consultants, trainees and designers. Steve Crowhurst, events director at Crain Communications which organises the PIAs, said, "The UK plastics industry boasts some of the best designers, manufacturers and engineers in the world and sustainability is very much at the forefront of their work. It is not surprising that plastics recycling and re-use was such a strong theme this year and gave us an opportunity to celebrate the great things the industry is already achieving."