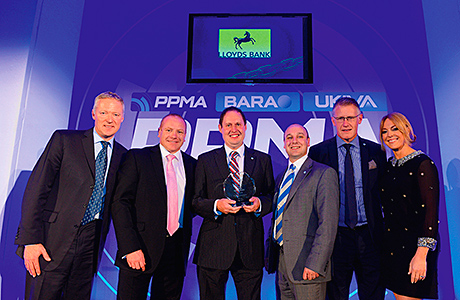 A total of 13 award categories were recognised by an independent panel at this year's PPMA Group Industry Awards on 30 September at the National Motorcycle Museum in Birmingham.
The event, held in conjunction with the British Automation & Robot Association (BARA) and the UK Industrial Vision Association (UKIVA), was attended by some 400 guests and hosted by impressionist and comedian, Rory Bremner.
Picking up the award of Processing and Packaging Machinery Manufacturer of the Year was Loma Systems, a supplier of food industry metal detection, checkweighing and X-ray inspection equipment, which fought off competition from other finalists including Enercon Industries, Riggs Autopack, Russell Finex and Winkworth Group.
Loma's attention to excellence was praised by the judging panel, who dubbed the company "a great example of how the drive for excellence in the individual elements of any operation leads to a sound and successful business". They also highlighted Loma's improvements in supplier performance, reductions in manufacturing time and focus on key performance indicators which have led to increased sales, improved profitability, excellent customer service and high employee retention.
Other categories included Polymer Equipment Manufacturer of the Year, a title taken by Sumitomo Demag, edging out fellow finalist Motan Colortronic. The award recognised Sumitomo's UK team for its collaboration with precision moulding manufacturer Forteq UK. Sumitomo (SHI) Demag's "great approach to customer service" proved to be a winner with the PPMA judges, who also praised the company's "ability to juggle multiple suppliers to find a winning solution."
Precision moulding manufacturer Forteq UK appointed Sumitomo (SHI) Demag to develop a turnkey system to manufacture its most complex and fragile range of plastic components to-date. Comprising two injection moulding lines, the cutting-edge automated solution makes 14 product variations of the iPERL water meter manufactured for Sensus – the world's largest supplier of water meters. "Winning this industry accolade not only recognises our technological prowess, it most importantly honours our team for their ability to take the lead and work collaboratively with our industry counterparts on complex projects," comments managing director Nigel Flowers.
Essex-based Pacepacker Services took a couple of the awards intended to recognise youthful promise. Apprentice of the Year went to 23-year old Andrew Lufkin, who was praised for "his willingness to share his skills and knowledge and involve others in his training."
In the Ones to Watch category, Pacepacker's Andreas Fantousi picked up bronze. The 26-year-old, who joined the company in 2010, is credited by the company for overhauling the quotations process and introducing data controls to benchmark performance.
Winners at-a-glance
Apprentice of the Year
Winner: Andrew Lufkin
Customer Services
Winner: Yorkshire Packaging Systems
Exceptional Sales or Company Growth
Winner: Fortress Technology
Exporter of the Year
Winner: Industrial Washing Machines
Most Innovative Ancillary Equipment
Winner: Elesa
Most Innovative Automation System of the Year
Winner: Endoline Machinery
Most Innovative Machine Vision Project
Winner: Olmec UK
Most Innovative Process of Packaging Machine
Winner: OAL Group
Partnership of the Year
Winner: Stemmer Imaging and Siga Vision
Polymer Equipment Manufacturer of the Year
Winner: Sumitomo Demag
Processing & Packaging Machinery Manufacturer
Winner: Loma Systems
Sustainability
Winner: Aetna
Outstanding Achievement
Winner: Alan Ross