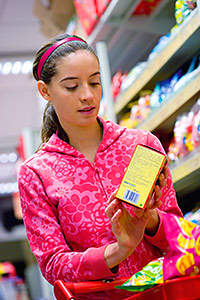 NEW EU regulations on food allergen labelling come into effect in 13 December 2014, part of the Food Information for Consumers Regulation (EU) No. 1169/2011. All European food and drink manufacturers are required to adapt their labelling accordingly.
The key new requirements are: a minimum font size for mandatory information; emphasising allergens in the ingredients list; providing allergen information for foods sold loose, an extension to the rules for country of origin labelling for meat and from December 2016, mandatory nutrition labelling for most pre-packed foods.
The 14 allergens relevant to the regulations are: cereals containing gluten (such as wheat, rye, barley and oats), crustaceans, fish, eggs, molluscs, soybeans (soya), milk (including lactose), nuts, peanuts, celery, mustard, sesame seeds, sulphites and lupin flour.
Writing in The Lawyer, Esme Saynor said the new EU regulation (1169/2011) consolidates and updates two areas of labelling legislation – general food and nutrition labelling — into a single text. The aim is to apply the labelling rules in a consistent manner across the EU. And the overall intention is that packaging and labelling should play a part in the health of consumers.
What and why?
The information is to be more inclusive, with a focus on nutrition, allergens and country of origin, as well as being in larger and clearer print. Consultation with the food and drink industry has raised issues around how this extra information – which must be larger and clearer – will sit with other requirements such as the need for consistent branding and smaller packaging.
The new rules will apply from 13 December 2014. The obligation to provide nutrition information will apply from 13 December 2016 for manufacturers who have yet to introduce nutrition labelling on their products, whereas manufacturers who already provide nutrition information must comply with the new rules by December 2014.
Vision software specialist Qadex is among those counselling urgent action on the matter. The firm produces software to help food manufacturers achieve compliance with regulations.
The Qadex software system is designed for use in all stages of the food chain from manufacture to supermarket shelves. It features a variety of modules, each specific to a particular part of the product journey and tailored for manufacturers and suppliers, retailers and wholesalers and food service operators.
To assist in correct allergen labelling, food manufacturers and processors can use the Allergen Management and Labelling Module. The tool is said to help decrease allergen related product recalls by auto-validating suppliers and performing routine risk assessments. This module can be used in conjunction with a range of other modules, such as the Raw Material Specifications Module, which include the allergen management module for free.