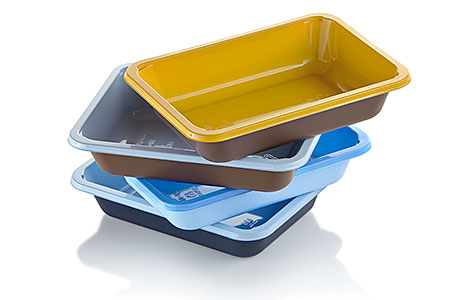 FAERCH Plast will showcase innovative plastics packaging products for the meat, fish & poultry sector.
These include trays manufactured from MAPET® II, a specially developed mono material for top sealing of fresh meat, and the UltraZap® XtendaPak absorber pad which limits bacteria growth and helps extend shelf life by up to two days. There will also be a variety of eye-catching CPET, PP and APET containers for ready meals and cold foods & snacks featured.
The company also aims to highlight its closed-loop, cradle-to-cradle manufacturing process using post-consumer PET or rPET.
MAPET® II (MONO amorphous polyethylene terephthalate) has been designed by Faerch Plast to facilitate easy top sealing of fresh meat or fish and to eliminate the risk of contamination from juices. It provides the same properties as multi-layer materials but offers better sealability and protection, as well as being easier to sort for recycling. has a very low environmental footprint.
Also on display will be 'Dual Colour' CPET trays (see image, opposite), which are primarily aimed at the premium convenience food market and oven to table lines in particular. They feature one colour on the outside surface and another on the inside, offering retails and manufacturers a major point of difference, as well as maximum on-shelf impact and brand appeal.