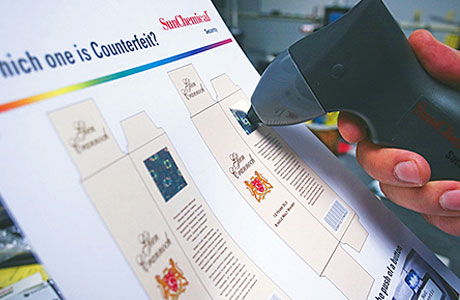 SUN Chemical and parent company DIC will be using Interpack to showcase their support for all parts of the packaging development workflow from package design concept to prepress, conversion, brand launch, and ultimately the store shelves.
Using the theme "Concept to Consumer" in Hall 7a, Stand C10, Sun Chemical will demonstrate its ability to be a global full service packaging solutions provider that can address the key packaging issues the industry is facing today, including shelf impact, brand integrity, food safety regulations, and costs.
Ways of protecting brands
Visitors to the booth will have an opportunity to explore brand protection options to ensure the integrity of their packaging. Sun Chemical offers a variety of security ink solutions including an infrared coding solution called Verigard™, a security system that adds a small quantity of taggants, or chemical markers, to inks, varnishes or coatings for use in any print process on any substrate. Sun Chemical's brand protection experts will be on hand at the booth to discuss the variety of covert, overt and semi-overt options Sun Chemical offers brand owners to maintain brand integrity.
On the food safety regulations front, Sun Chemical says it works with brand owners to ensure their packaging complies with the most stringent regulations in the marketplace, including the Plastics Implementing Measure, REACH, the Plastics Directive, and the Swiss Ordinance. Working with Sun Branding Solutions' design-to-launch packaging development services, brand owners can take advantage of lifecycle management software.
Sun Chemical says it leads the way in providing best practices for food packaging printing and offers materials for converters ranging from inks and coatings to adhesives that are specifically designed to ensure the low migration of inks on packaging.
Packaging systems
Sun Chemical and DIC together offer a variety of packaging services and materials and systems that are designed to improve a brand owner's bottom line. From packaging systems which utilise barrier lamination adhesives and sustainable inks to coatings designed to lightweight packaging in a cost-effective, recyclable, biodegradable, and press-ready way.
Additional costs can be saved by ensuring that brand colour maintains consistency on packaging substrates and utilising materials that can print variable data on each package.
"We are a true global packaging solutions provider," said Felipe Mellado of Sun Chemical. "We are more than just an ink company; we can manage a brand owner's package from concept to consumer through the many packaging systems, materials and services that we offer. Brand owners that take advantage of all the combined packaging solutions we have to offer will benefit from the ability to differentiate their brands and improve their bottom line."