The Packaging Innovations 2014 show comes to the NEC on 26 and 27 February, with another lively selection of seminars, debates and consultancy clinics running alongside an exhibitor list that spans the entire packaging supply chain.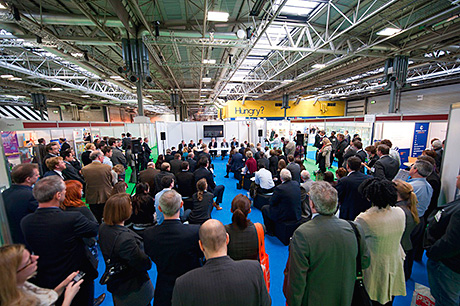 FEBRUARY'S event brings together seven co-located shows: Contract Pack, Ecopack, Packtech, Print Innovations, Labelling Innovations and – making its debut – Converting Innovations. This combination of shows addressing different packaging spheres seems to justify the organiser's claim that it's the only UK show to support the full packaging supply chain, from the machinery, technology and equipment, to design and branding, forms and concepts, plus outsourcing partners to help take a product to market.
Alison Church, Event Director for Packaging Innovations comments: "Our NEC flagship show has become the packaging show where the industry gathers. Each year the big named manufacturers return, but you'll also see a huge range of companies you just won't meet anywhere else. We provide the perfect platform for these vibrant communities to come together and exchange ideas."
Debuting at the event in February is a 3d Print Feature, enabling designers, engineers and educators to test and perfect their work with 3D modelling. And not-for-profit plastics recycling expert Recoup will be providing a Plastics and Packaging Recycling Clinic, dispensing advice on topics such as whether or not your pack will make it through the recycling system; recyclability by design; and effective solutions for delivering zero waste onsite.
Seeing through consumers' eyes
New also to February's show is the Camden BRI eye-tracking feature, giving brand owners another perspective on questions such as "What do consumers really think?" and "Is what they say they do what they really do?" A visit to the eye-tracking feature promises to help you better understand what drivers are behind consumers' spending behaviour and store navigation. As a visitor you will have a chance to try the software out yourself and see how it can help you develop your strategy for POS, pack design and product positioning
The co-located shows will feature over 50 free 'learnshop' seminars, headlined by design and packaging elder statesman Lars Wallentin, an influential figure for many marketers through his previous work for Nestle, and 40-year stewardship of brands such as Nestlé, Nescafé, Maggi, Buitoni, Nesquik and KitKat
A regular fixture at Packaging Innovations is the BIG Print Debate. The recent 2013 debate wrestled with the question 'Everything that can become digital will become digital – or will it?', and was said to be a big hit with attendees, featuring five panellists and a packed crowd who were said to be vocal in their participation.
On a similarly discursive note, the BIG Packaging Debate is also a central part of Packaging Innovations. In 2013 a panel of experts sat before a packed audience to discuss the proposition 'Consumers don't buy sustainable packaging'. Panelists included Iain Ferguson, Environment Manager at The Co-operative Group, and Stergios Bititsios, Associate Director of Packaging and Design with MMR Research Worldwide.
Kevin Vyse, Managing Director of The Institute of Packaging Professionals UK, who chaired the debate, concluded: "It seems sustainability isn't the real issue, it is perhaps consumption, the need to reduce the overall consumption levels. A holistic approach is needed and a shared mindset between businesses, so they work together on these issues, a sense of shared responsibility that isn't all about commercial short term gain."
The Packaging Consultancy Clinic is also a popular and regular feature at Packaging Innovations, offering visitors an opportunity to gain one-to-one personalised advice on any aspect of their packaging.You have the opportunity to ask questions, bring along your packaging and gain advice on your burning challenges and issues.
Experts in 2013 covered many different areas, including talent development, training, pharmaceutical packaging, packaging materials, packaging procurement and cartonboard.
Lions' Lair is a regular and popular feature within the show, where a selection of the bravest exhibitors pitch their products to a live panel of discerning buyers and industry experts.
This gives you the opportunity to see the latest innovations put through their paces, with the chance to get up to speed with new practical solutions.
High profile industry experts will form the panel of Lions, who will cast their critical eye over an array of the most pioneering products put forward by four exhibiting companies. Only the most innovative products in show will be given this invaluable platform to convince the judges – and you, the audience – that their product is worthy.
One of the panel, Philip Chadwick, Features Editor, Packaging News had this to say: "Lion's Lair celebrates what is great about our sector – smart people trying to make consumers' everyday lives that little bit easier."
On the exhibitor front, international exhibitor Schur Star Systems, will be launching its latest developments in the UK. Specifically designed for the food industry, Schur's Fresh `n` Go bags aim to keep fruit and vegetables fresh for longer, whilst providing convenience for the consumer. The company will also be exhibiting its dual or multi-chamber stand-up bags and Ready Meal bags developed for the convenience food market and aligned with the trend for smaller single-servings.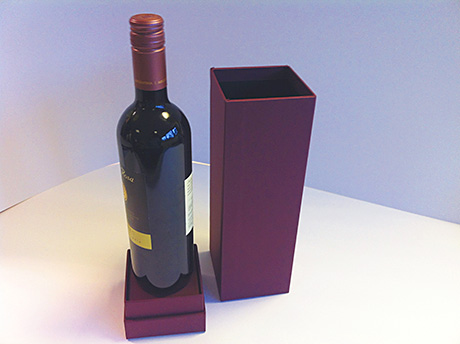 Also with plans to make life easier for the consumer is Silgan Plastic Food Containers, which will be showcasing alternatives to the traditional metal can that is opened with a can-opener. Silgan will be demonstrating this with Bentos® re-launched Meat Puddings using Silgan PFC's new light-weight plastic bowl. Hormel 'STAGG® Chili' high-barrier plastic containers decorated with a carton-board sleeve; and Hormel 200g Spam® now designed in a high-barrier rectangular plastic cup.
Pollard Boxes will unveil its fully automatic Emmeci MC2012 MEB for the manufacture of high quality presentation boxes up to 330mm deep, ideal for luxury drinks packaging (see image, below). The first of its kind to be installed in the UK, the boxes can be finished with a variety of high quality decorative options, including film lamination, embossing, silk screen UV varnish and hot foil stamping; all produced in-house to help reinforce premium brand image on-shelf.
In addition, Pollard will also showcase its latest advances in decoration techniques following the recent installation of a £250,000 Sakurai printer. This enables boxes to incorporate a number of specialised finishes that help to create brand differentiation and ensure effective on-shelf impact for a wide variety of products in markets such as multi-media, games, beauty and personal care, luxury, corporate marketing, publishing, and gifts.
Making its UK debut is Seriplast which will be showcasing its latest development for the plastic packaging industry. Fiona Nicholls, International Relations for Seriplast, explains why her company has decided to exhibit: "After asking around in the UK, the NEC easyFairs Packaging Innovations was the show most recommended to us by others so it seemed only logical to offer British customers the same innovations and choice from which the French & European cosmetic and pharmaceutical companies benefit."
Plastique, which has been designing innovative thermoformed rigid plastic products for over 34 years, will be adding two new product offerings at the show, which now include: Thermoformed Pulp – sustainable and recyclable/compostable packaging products; and PaperForm – an innovative new thermoformed paper based packaging concept.
Those needing to source the latest cosmetic and pharmaceutical packaging will find plenty of expertise at the show with M&H Plastics, Measom Freer, Toly, Aptar Beauty + Home and Toly all confirmed to exhibit. The show has also attracted luxury exhibitor Leo Luxe for the second time. Cuan O'Callaghan, Sales Manager for Leo Luxe remarks: "Packaging Innovations is an ideal place to showcase our packaging developments, as there is always a great footfall of high quality prospects. For 2014 we will introduce even more 'attention grabbing' concepts for beauty and cosmetics, as this is an ever growing luxury market that embraces innovative decorative design."
Rather than just showcasing its products, Curtis Packaging will be combining cartons with charity. At the London show Curtis raised £1,070 for the Cystic Fibrosis Organisation in the UK, and will be hoping to echo this success at February's NEC show. Steve Mallett, Sales Director for Curtis remarks: "It never fails to amaze me that we have so many new people come onto our stand who have been recommended to work with us on new projects. We have a loyal and growing customer base, which we can honestly say has been helped by showcasing at the easyFairs Packaging Innovations show since it first started".
Contract Pack
One of the co-located shows, Contract Pack profiles developments in the UK contract packing industry, and aims to provide the ideal forum for locating professional outsourcing partners. It is being supported by the British Contract Manufacturers and Packers Association (BCMPA). The blurb on the organiser's website says: "Who to choose to fulfil your contract packing requirements is a tough decision, as you need to trust your partner with your product… and for them to meet your brand values each and every time."
There will be over 30 exhibitors at Contract Pack, with expertise in sectors such as personal care, food, pharmaceuticals, medical devices, chemicals, gift packing, promotions, fulfilment and others.
Print Innovations
The print and labelling side of packaging is addressed by the closely associated shows Print Innovations, Labelling Innovations and – a new addition – Converting Innovations.
Support has been announced from trade associations such as the IPIA, EFIA and BPIF Labels, and the exhibitor list so far includes the likes of HP, Esko, Epson, Dupont, Xeikon, Falconer Print & Packaging and Intec Printing Solutions.
Products being unveiled at the show include AG/CAD's DYSS X5 digital cutter. The X5 has been designed specifically to handle all the proto-typing, sample-making and short/medium run production needs of packaging and point-of-sale display companies. Robust construction and superior Korean engineering gives enviable reliability and allows these machines to produce high quality results.
The X5 comes in a variety of sizes with versatile tooling to suit all common packaging substrates. Folding boxboard, displayboard and corrugated; and even structural honeycomb boards, textiles and paper can be processed, along with many other materials.
Combine this flexibility with lightning fast performance and semi or fully automatic feeding options and you have a genuine, 24/7 digital production machine able to service conventionally or digitally printed short to medium runs, says AG/CAD.
The X5 is available with a range of options including a conveyorised bed, and automated sheet feeders to turn the table into a full production unit.
The X5 digital cutter has been designed in three compact sizes perfect for the sample maker who does not work with wide format materials. It also makes the ideal second machine if you already have a wide format cutter at your premises. It only has a small footprint and can be installed in design office or factory floor alike, but it is perfect where floor space is at a premium. Although smaller than the X7, the X5 is as versatile and at the same time faster, and available at a much lower cost.