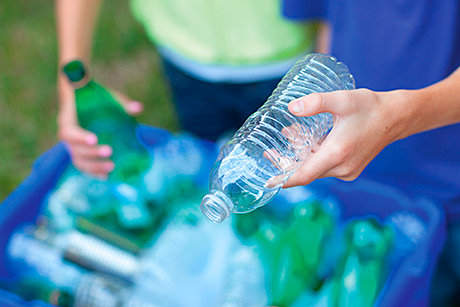 FLUMMOXED by waste flows? Mystified by materials recycling?
The recent conference of Recoup (RECycling Of Used Plastics), an independent expert on plastics recycling, unveiled a couple of initiatives aimed at clarifying this topic, both for consumers and package designers/specifiers.
Held in Peterborough in late September, the event brought together organisations from across the plastic supply, use and recycling chain, to discuss and debate the future of plastics recycling. Announcements included an updated edition of a document to assist product developers with recyclability (see "Design companion", below)and a new initiative to help local authorities communicate more effectively with consumers about plastics recycling.
In his keynote speech Lord de Mauley announced support and financial backing from Defra for a new Recoup initiative (as yet unnamed), intended to better engage consumers with recycling.
Speaking with Packaging Scotland, Recoup CEO Stuart Foster reflected on the progress made with plastics recycling in recent years. "If you'd asked me five years ago, I'd have said there wasn't enough infrastructure [to support plastics recycling]. But a lot of it has now been put in place by waste management companies."
The latest version of the Local Authorities Plastic Collection Survey, an annual document that Recoup helps put together and which has been going since 1994, shows that the UK now recycles around 58% of its plastic bottles, a relatively homogenous waste stream. Plastic waste in the category "pots, tubs and trays" – a less homogeneous stream – is more problematic and at present only around 28% of this waste is recycled. Less homogeneous waste tends to be a trickier proposition, and Recoup has led work looking at the different types of plastic materials present in such items, and how they might be recycled.
One material relatively easy to recycle is polypropylene. There are more and more packaging success stories around it, says Foster. One example is the Dulux paint pots recently produced by RPC.
Sending the right messages
With the technical side of recycling progressing steadily, Foster suggests the real blocking point at the moment is consumer engagement. The Recoup initiative hopes to tackle this, and will develop communications tools and guidance to provide support local authorities to help them deliver better and more consistent information.
One of the aims is to resolve areas of confusion in the way consumers are informed about recycling. Foster cites the universal triangle symbol, with its accompanying number to denote different types of plastic polymer. Still in use by many local authorities, the symbol is "too confusing" he says, and doesn't allow for the right materials to be recycled. Waste collection, waste sorting, product design – there are challenges to address in many different areas but Foster suggests the past decade has been a very successful one for the UK with respect to recycling, prompting optimism about the future. "I think there's a great opportunity for the UK to become a leader in the recycling field," he said.