THE development of film materials that allow the use of stronger yet thinner films for wrapping pallets is enabling cost savings for end users. One of the latest announcements here is the Carbon and Alloy film ranges from Gloucestershire-based Golden Valley Pallet Wrap Specialists (GVPS) Ltd. These are available in both hand- and machine-applied versions.
Golden Valley says that wrapping a typical palletised load using a standard 23 micron pallet wrap costs on average 28p. But to wrap the same pallet with Carbon or Alloy machine pallet wrap costs just 18p – a saving of 10p per pallet. For a company that wraps 500 pallets per day this would equate to a saving of £13,000 per year.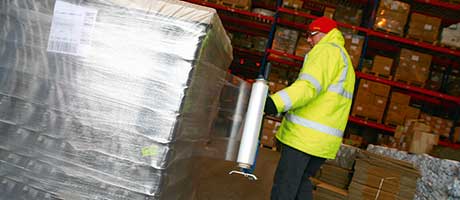 In one instance, GVPS says it has been able to demonstrate that a leading third party logistics company will save a staggering £750,000 per year by switching to the new film.
Alluding to the science in its press release, GVPS says the Carbon and Alloy films are made from a blend of octene and henxene polymers and are produced using "state of the art extrusion machinery" which enables a seven-layer bonded pallet wrap to be produced whereas traditional films have only three layers.
The new material can be thinner than a lot of pallet wrap currently in use while still offering exceptional strength and puncture resistance. This means less wrapping is needed to achieve optimum palletised load stability. It also means less packaging waste. Also, as more pallets are wrapped per roll of film, less downtime is incurred by the need to change the film roll in applications where pallet wrapping machinery is used.