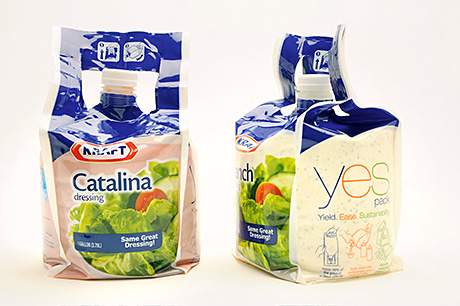 THE annual awards of the US-based Flexible Packaging Association in March showcased recent advances in printing, packaging and sustainability for a wide range of pouches, bags, films and labels.
The "Highest Achievement Award" went to Kraft for its YES pack for salad dressing, a flexible alternative to rigid gallon jugs. It incorporates a two-handle design and a smaller spout, making it easier to carry and pour. Designed for rough usage, it is made from a high-strength, multilayer, nylon/polyethylene film. "YES" is an acronym for Yield, Ease-of-use and Sustainability, said to be features of the container.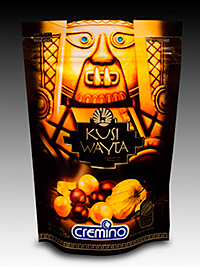 In the Gold awards category, the winning entry for "Packaging Excellence" went to the Amcor PushPop from Amcor Flexibles, an innovative pouch with top and bottom gussets (the top one is laser scored). You simply push your thumb into a marked area in the top gusset, tug, and it pops open along the score lines. The bottom gusset allows the pouch to stand up unsupported. It has been used with "savoury chips" and "sweet cereal snacks" (whatever they are – ed).
A "sophisticated in-line print job" earned the Kusi Wayta pouch a Gold Award for Printing Achievement. Peru-based Peruplast prints and converts the film for the resealable stand-up pouch. Four types of snacks, all featuring indigenous Peruvian seeds and fruits, are packaged in 140- and 100-g variants of the PET pouch. This PET layer is reverse printed in seven colors with solvent-based inks via rotogravure. The reverse printing, which is sealed into the multilayer film, protects the artwork from scuffing. A matte lacquer is printed on the exterior surface of the PET.
Awards were also handed out recognising "Environmental & Sustainability Achievement", the winners of which included the pouch used for Savvy Green Eco-Clean Laundry Detergent, one of the first primary flexible packages designed to be recycled.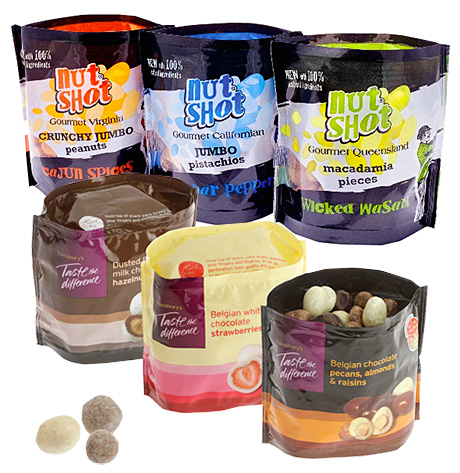 Images – Top, Kraft's YES pack. Above, The Amcor PushPop.