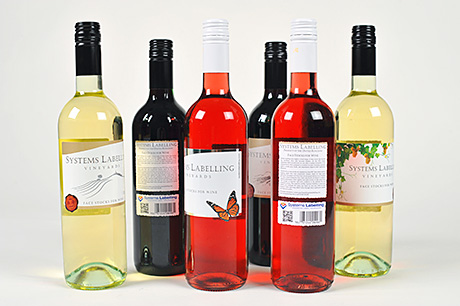 THERE are many factors to weigh when making the choice between wet-glue or self-adhesive labelling.
Wet-glue (WG) still dominates in the food and beverage world, a pre-eminence founded on its traditional edge in terms of quality and – for longer print runs – lower cost. But self-adhesive (SA) labelling is catching up and the decision is becoming a more difficult one. Seeking a clearer answer to the "wet-glue vs self-adhesive" conundrum, Packaging Scotland asked some labelling experts for advice.
When self-adhesive labels first appeared around 30 years ago it was in a very simple form, with things like single-colour price code labels and bar code labels, according to Ian Johnstone, managing director of Glasgow-based Gavin Watson Printers. Now SA has advanced to the point where it is the labelling approach of choice for many top-tier whiskey brands like Glenlivet. With the more sophisticated combination presses now available, albeit at a price, SA is capable of very high quality graphics and embellishments.
In terms of quality, "there's no difference these days", says Robert Shimmin of 4impression, a provider of training on a wide range of print and packaging subjects. "Wet glue labels are printed litho. Self adhesive labels can now be printed in litho – plus they can use all the other print processes as well".
SA labels are laminates made from a paper or non-paper face stock, adhesive and a paper or filmic siliconised release liner. Printing is done on the face stock and then die-cut to a shape before the waste matrix is removed. Supplied in reels, the release coating permits easy removal of the label from the protective backing liner.
Flexibility for line changing
Peter Mulvenny of Label Graphics, a specialist in SA labels, sees more and more people drawn to the flexibility SA allows when handling different bottling lines, and the lower cost of change parts. Because SA labelling uses a reel-fed applicator, it's a far simpler matter to set up. WG needs to go into a magazine, and requires technical expertise. Shimmin agrees that the contribution of change parts to the cost of WG labels can be "massive".
And so with whiskey companies, where there are a lot of disparate brands, none produced in especially high quantities, SA makes obvious sense. But for many applications it seems a bit more of a toss up. "It's not an easy decision between the two," said Johnstone. "It's probably 50:50".
SA would seem to make sense for shorter runs, with WG having a cost advantage in longer runs, or so the traditional story goes. One aspect of this is the cost of materials: paper is the least expensive substrate for labels and is widely used for WG labelling. SA labels – typically paper or film – are more expensive because they include the cost of the liner and the adhesive, which is already applied. "Wet-glue is more cost effective for applying paper labels in certain end-use applications," says Shimmin. So there are different facets to the question of cost and it depends on various factors.
"The Total Applied Cost of labels tends to be the major factor in selecting one labelling system over another", he says, in summary.
Shimmin gives what seems a fairly exacting list of the factors which come up for attention when deciding on a labelling system: material costs, printing & conversion costs, manufacturing window / lead time, application equipment investment, operational cost of applicaiton lines, application flexibility, application speed, application down-time, and logistics and inventory control.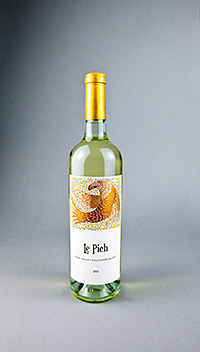 Neck and neck
The speed of the machinery might seem to be a factor but he adds: "These days application speeds are similar and therefore not a major influence in choosing WG versus S/A." In terms of absolute speed, WG is capable of very fast production processing, typically 600 containers per minute on a glass bottle compared to 500 for SA, says Shimmin.
The "manufacturing window" is an important consideration when choosing the method of decoration particularly when the specification requires some form of embellishment such as hot foil-stamping, embossing and lamination. "Sheet-fed wet glue label manufacturing requires a separate machine pass for each embellishment process, extending the manufacturing window considerably. By comparison, roll-fed self-adhesive equipment can produce the printing and embellishing in 'one pass' considerably reducing the manufacturing time frame."
The quest for single-pass WG
The equipment in question is an emerging breed of combination presses. These can be used with SA labels and can replicate the printing, embellishment and finishing techniques used for wet glue labels on a single machine in a single pass. Multiple processes can be combined such as offset litho, rotary silk screen, UV flexo, gravure, foiling, embossing, laminating and conversion. As a result, "the quality of print for self-adhesives labels can now be excellent", says Shimmins. However, as Johnstone pointed out, the machines can be very expensive.
Combination printing is something you can't do with WG labels.Sheets have to be reprocessed to provide additional decorative elements. The quest for a means to produce highly decorated WG labels in a single pass seems to have occupied some equipment developers in the labelling world, says Shimmin. "That's the costly part," he says. "If you could change that then the economics would change again".
Shimmin says SA labelling is suitable for most end use applications, but scores heavily on those using filmic materials (such as personal care products). Wet-glue continues to have its prime use areas in bottle labelling (for wine, beer and spirits), mineral water and can labelling for foods. More and more SA suppliers are looking to compete in these traditional WG territories. For example, Systems Labelling announced in October that it was entering the wine label market with a broad range of stocks that include cast, metallised, clear and textured finishes (see photo on opposite page).
"SA was always playing catch-up with WG", says Shimmin. "Then we reached a stage a few years ago where the market was split 50:50," he says. "Now SA has overtaken WG which probably has something like a 40 to 45% share", he suggests. And the high volume nature of existing WG-heavy markets like alcohol and canned goods helps account for their high share.
"The main reasons to stick with WG are probably histrorical," he adds. If a company is heavily invested in the technique then that's an obvious reason to stick with it, and "it does produce very good results".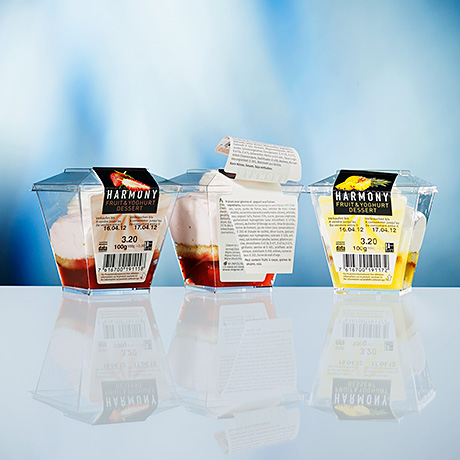 Images – Top, Self-adhesive labels will offer a number of benefits to the wine bottling industry says Systems Labelling, a sector it has supported since October. Above, Booklet labels for Harmony Fruit & Yoghurt Desert (Pago International).