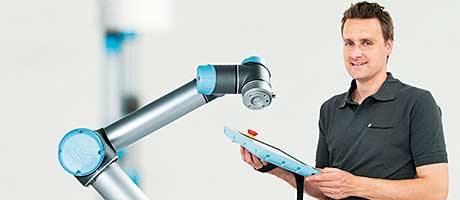 RA Rodriguez will use the PPMA show to highlight the growing popularity of its IEF Werner linear motion products in the packaging and processing sectors.
High speed, volumes and duty cycles demand components and systems that are robust and reliable.
The IEF Werner linear motion range will be a main focus at the show along with the "flexible and cost-effective" Universal Robot robotic arm (pictured), a new model of which will be introduced at the show.
Both Universal Robot arms can be used as an alternative to traditional robots which are sometimes considered to be too large, expensive, noisy or not sufficiently flexible.
Both are entry-level automation devices that provide six axes of movement and operate from a standard 240V supply.
A spokesman said: "No expert help is needed for set up as a unique graphical user interface guides the user through the process; it's true, plug and play productivity."
The new long reach version can handle 10kg and has a reach of 1300mm.