Hundreds of exhibitors from across the UK are gearing up for one of the biggest dates on the packaging calendar.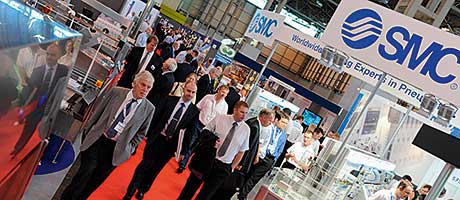 THE 2012 PPMA Show at Birmingham's NEC on September 25-27 will bring together all the major players in the industry covering sectors including food and drink, pharmaceuticals, cosmetics, household products and chemicals industries.
This year's exhibition will be built around the cornerstones of automation, innovation, efficiency and technology in order to deliver the best insight into solutions that maximise the productivity, consistency and quality of products and services in the processing and packaging industry.
"The PPMA Show represents a wonderful opportunity for visitors to discover the most up to date technology and solutions," says Graham Earl, the show's exhibition manager. "In addition, it provides insight into the latest educational trends and developments in the sector, whilst also offering unrivalled opportunities to do business and consolidate connections."
Visitors to the show will be able to learn more about increased throughput and predictability of quality made possible thorough hi-tech automation, whilst also gaining a greater understanding of the vulnerabilities of such technology and how to counteract them. The 2012 edition is also encouraging a commitment to innovation, providing opportunities for exhibitors and visitors alike to gain unprecedented access to the technology that may lead to the next big development in the industry.
But it's not just innovation that is important. Increasing productivity is the ultimate goal of all businesses but this must be achieved without sacrificing quality. Efficiency is therefore crucial and visitors to this year's PPMA show will be able to learn how they can improve both quantity and quality. Finally, the role that technology plays in aiding the above objectives will be illustrated at the show through live product demonstrations.
Further to these opportunities to do business and make new contacts, a series of panel debates will bring into focus the issues challenging the industry.
Also returning to the show is the Ones to Watch competition, created to acknowledge the best and brightest up and coming talent. Whether the individual works in marketing, engineering, design or sales, the award is open to anyone under the age of 35, who has worked in the industry for more than four years, with the overall winner being announced at the show during a special awards ceremony.
Organisers are confident the September gathering will be as successful as last year's event which won over first time visitors and lived up to the expectations of some who have become regular exhibitors.
Michael Silvery, design engineer at Calava Process Solutions, said: "I decided to attend the show in 2011 for research purposes as I had just joined Calava Process Solutions. The machinery displays on the stands were very impressive. It's always great to see the products in action, that's what I love about trade shows."
Colin Griffiths, chairman of pallet wrap specialist Golden Valley added: "We've exhibited at various shows but I knew that if we improved our stand, we could do very well at the PPMA show last year. On the first day alone we generated over 100 good leads. The 2011 exhibition was the best we've experienced as a company and we're looking forward to this year's show."
The opportunity to engage face-to-face with the UK's processing and packaging industry has tempted many established firms including Advanced Dynamics Ltd to attend. Members of the team will be displaying the full range of Pack Leader Labelling machines ranging from the Table top ELF50 and ELF20 side wrap and top wrap systems to the high speed PPRO 625 suitable for all front and back and side wrap applications for all glass, plastic and complex shaped bottles and tubs.
The 2011 exhibition was the best we've experienced as a company and we're looking forward to this year's show.
The company will also exhibit the Matrix high specification applicator that is used for exacting applications and due to its small size is suitable for mounting onto flow wrap machines to apply labels onto the film rather than onto the pack where this is not possible. Köra-Packmat leaflet and booklet feeders will also be on show including the entry level EasyFeeder and the high specification AdvancedFeeder.
Independent supplier of desktop colour label printers AMS Ltd will also be in attendance. Although primarily specialising in mailing equipment, AMS has quickly expanded into the label and packaging market since it introduced its first desktop, short-run digital colour label printer last year.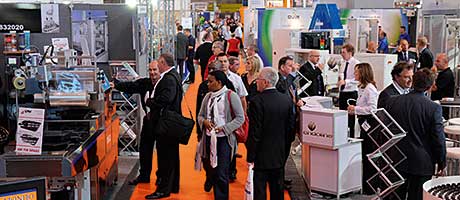 An AMS spokesman said: "Colour label printing has become an integral part of many businesses' in-house packaging production process and with new technology such as large colour touchscreen interfaces and high quality Memjet print heads, customers and dealers alike can't recommend AMS enough."
Elsewhere, CPA Engineered Solutions' Enershield energy saving air barriers will be open to inspection. The technology uses an accurate flow of high volume, high speed air to create up to a 90% seal over an opening, creating a 'virtual doorway' that people and vehicles can still pass through. By creating an environmental separation, it keeps warm air in and cold air out – or vice-versa – and prevents the transfer of dust, fumes, insects, smoke, and odours.
CPA claims its Steril-Aire high power UVC germicidal emitters, installed in HVAC systems, can kill up to 99.9% of mould, bacteria and viruses which grow on cooling coils and drip trays. It improves HVAC efficiency and provides constant cleaning increasing indoor air quality, productivity and reducing absenteeism.
Colour label printing has become an integral part of many businesses' in-house packaging production.
As well and tried and tested technology this year's show will see the launch of a new generation of tray erector by end of line machinery specialist Endoline. Designed and built to meet the growing demands from manufacturers for smaller, more compact machinery, the Endoline 511 Tray Erector has been engineered into a vertical format – resulting in a system built to a significantly smaller footprint than original tray erecting machines. With an output speed of up to 30 trays per minute the new Endoline 511 Tray Erector is suited to retail ready packaging applications and can be integrated into a completely automatic line with tray loader/shrink wrapper for a shelf ready transit pack or used as a stand-alone unit for manual tray packing.
Kecol Pumping Systems Ltd, a leader in the design and manufacture of piston pumps and pumping systems, has two new items on display. Visitors will able to take a close look at the new 'One Shot' System – piston pumps which provide a measured volume of material.
Kecol says it can now offer a system to deliver an accurate dose for filling, batching and other applications where a predetermined volume is required. In addition, the Spring Free Air Motor is a new design, featuring improved reciprocating air motors to provide a smoother change of direction. By removing the springs that re-set the pilot valves, Kecol has improved the reliability of the mechanical linkage used to achieve this.
Lock Inspection will launch two new metal detection systems to help pharmaceutical manufacturers achieve greater product integrity throughout the entire production process. Its new INSIGHT PH Gravity Fall metal detection system, aims to empower pharmaceutical manufacturers seeking to achieve greater product 
integrity during the production process.
The second new offering is Lock's BottleChek metal detection system, which the firm says is capable of providing customers with a competitive edge due to its value-added software for quick product set-ups and increased traceability.
Images: The PPMA show, which takes place at Birmingham NEC in September will involve packaging and processing firms from all over the United Kingdom.