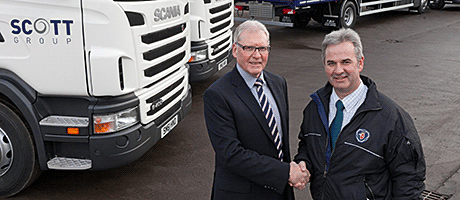 LEADING pallet supplier the Scott Group has invested in six brand new vehicles to coincide with the launch of a new livery.
A rejuvenated fleet, which consists of six Scania HGVs will sport the group's new branding, in addition to the existing fleet of 94 vehicles operating across the UK.
Karen Hunter, sales and marketing director at Scott Pallets, said: "Following our Group re-brand last year, we accomplished a strong market presence throughout the UK, so we were keen to reinforce our new look on the road. Our new livery is designed to ensure the market has a clear understanding of the diversity of our business and all the products and services that we can offer."
As well as pallets, the group is a fast-growing packaging provider and a leading trade supplier of tools, work wear and corporate clothing.
Image: John Graham, senior buyer at Scott Group, and Scott Horsburgh, sales executive at Scania Scotland shake hands on the new Scania vehicles.