Firms that fail to pay attention to the performance of their pallets may be sitting on a time bomb.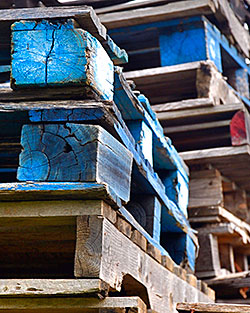 WEAKNESSES that lead to goods being crushed can prove costly but deteriorating pallets also pose a greater risk of injury to staff.
Jim Hardisty, managing director of Goplasticpallets.com, believes businesses could be compromising the safety of their products and warehouse operatives by using wooden pallets with undefined loading capacities.
He highlights an incident where a major UK supermarket was faced with a huge bill after a wooden pallet racked 10-pallets high broke in its automated storage system.
"How can you be sure that a wooden pallet is capable of bearing the weight of your goods?" he asks. "The truth is, you can't. The reason for this is that the strength of timber varies. Make 100 wooden pallets one month and test them and they might all have the same loading capacity, but make another 100 pallets a few months later and there is no telling how the capacity of these pallets might differ.
"Choosing pallets that have stated loading capacities, like plastic pallets, not only offers companies the reassurance that their products are being stored and handled in the safest possible way, but can also avoid costly incidents.
"Businesses invest a huge amount of time and money into selecting the safest and most efficient racking, computer systems and handling equipment for their logistics operation, so why compromise all this effort by using pallets with unqualified loading capacities?"
Plastic pallets have three stated loading capacities – static, dynamic and racking. These capacities help operatives choose the right plastic pallet for a particular load so there is little risk of getting it wrong. Hardisty argues that plastic pallets can in fact help businesses eliminate other safety hazards in their logistics operation.
"Firstly, plastic pallets are moulded under extreme pressure which produces a high quality product and ensures the consistent dimensional accuracy and loading capacity of each plastic pallet – particularly beneficial in automated systems, as they won't twist or get stuck.
"Plastic pallets are strong and durable and less vulnerable to damage than other types of pallets – a standard plastic pallet has a lifespan of up to ten years, offering an excellent return on investment. Once a plastic pallet reaches the end of its working life, the plastic still lives on, as the pallet can be recycled and the plastic can be reground to produce new plastic products.
"Finally, as plastic pallets have no nails, sharp edges or splinters and there is no risk of loose component parts breaking free under manual lifting conditions, they are far less likely to damage product packaging or cause injury to operatives than wooden varieties."
Packaging and transport damage to products is also more likely when firms use pallets that are not up to scratch.
Scott Pallets, leading provider of pallets in the construction products supply-chain and a division of leading industrial supplies organisation Scott Group, has been working with global cement supplier Cemex to help tackle the problem.
Cemex challenged employees to review critical issues within certain aspects of its supply chain management and develop a new strategy. The key objective was to stem funds being lost through credits to customers due to damage being caused when loading and unloading their products.
Scott Pallets studied the loading footprints of the pallets and found that the majority of the damage was being caused due to the bags not being properly supported to stop the potential of the bags sagging through the top boards of the pallet and subsequently being pierced during fork lift truck transportation.
Using specialist PDS software, Scott Pallets formulated the best layout for the top boards of the pallets to fit the loading footprint. A specification was agreed that best met with requirements and an initial 50 samples were supplied for trials with some major customers. Following positive feedback a full load of the pallets was manufactured and a wider trial was carried out. This pallet is now being used for all Cemex dispatches.
John Dye, product development manager at Scott Pallets, said: "The work we have been doing with Cemex is a strong example of how Scott Pallets can respond to the individual needs of our customers. By zeroing in on key issues we can evaluate supply chain conditions and uncover opportunities for improvement, utilising our bespoke design services and technical knowledge. We are pleased that we could use our expertise to assist Cemex, helping them improve efficiency, customer relations and dispensing with unwanted cost to their business."
Another of the Scott Group's divisions, Scott ELM, which specialises in recovering transit packaging, has also been working together with Cemex for the last couple of years. Whilst there has been success with this project, Cemex is keen to increase the returned pallet volumes and this has been made a priority project for 2012. Scott ELM and Cemex are currently working on new initiatives to encourage more of Cemex's customers to engage with this environmentally friendly initiative.
National sales manager, packed cement, Graeme Barton said: "One of our key objectives for 2011 was to reduce refunds being given to customers due to packing and transport damage of our products. Scott Pallets took time to assess our situation coming back with a solution that really worked. We are now keen to continue with improvements to our supply chain by encouraging our customers to return used pallets, through Scott ELM."
The Scott Group was established in 1987 as a family-run sawmill and today employs over 1000 people UK-wide. The business says it is committed to ensuring customers are at the forefront of the latest industry developments and thrives on finding the most effective solutions for customers with the aim of providing quality products and a professional, straight-talking service at a competitive price.
Most recently, it launched a new division, Scott Pooling Solutions, which offers sustainable pallet pooling services specifically designed around customers' needs and challenges when it comes to the safe handling and delivery of their products in the supply chain. It says that by implementing a customer focused, consultative approach to pallet pooling, its new service brings something completely new to the market.
Image: Tired and worn-out pallets present a number of risks to products and warehouse operatives.