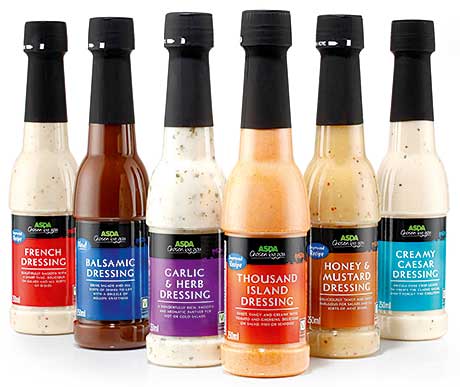 CONVENIENCE and sustainability are key features of new salad dressing bottles designed and produced by Appe.
Supermarket giant Asda has launched its 'Chosen by You dressing' in a new 250ml PET bottle that has produced a 90% weight reduction over the glass bottle it has replaced, saving an estimated 200 tonnes of packaging per year.
Appe says the lighter bottle also delivers transport efficiencies leading to reduced costs and carbon impact in the logistics chain, while its high resistance to shattering eliminates breakages during filling and distribution.
The bottle, which is claimed to be the first of its kind for private label salad dressings in the UK, was designed at Appe's facility in Brecht, Belgium, and is manufactured by the two-stage process at the company's Gresford factory, near Wrexham.
The firm's technical team worked closely with the closure supplier in the development, piloting and testing of the design to deliver a complete pack solution.